Seniors Look Toward Future in Art
by Howard W. Hewitt • April 20, 2010

Share:
Artists often describe their work as a part of their lives, something that matters to them. Wabash's six senior art majors opened their public gallery show Monday night with a deep passion for their work but with uncertainty whether that passion would be a career or lifelong interest.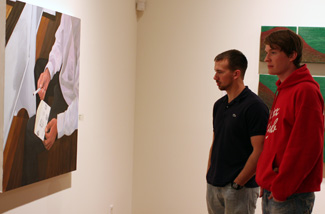 Miguel Aguilar, Juan Diaz, Korey Pazour, David Rosborough, Michael Scott, and Dan Sutton greeted students, faculty, and staff during the Gallery Opening and shared their years of work and senior projects.
"The Art Department has this as an additional graduation requirement," said Art Department Chair Doug Calisch. "Different departments have different kinds of things besides written and oral comps. For us, our studio majors need to be able to do the quality of work they feel comfortable and we feel comfortable putting up in public. We work them really hard; they can take up to two credits in their senior capstone experience. This is when you dust it all off and put on a nice shirt and come and be outward and open in public about it. It's their final work and it's meaningful to most of them."
The students struggled with the question of how art plays into their future, but to a man believed art would be a continuing part of their lives.
"I don't know that it will be a career," Pazour said. "I do drawings on the side, that's something I've always done. I do portraits, caricatures for friends, weddings and stuff like that. I want to keep my hand in it at least a little bit. If it goes somewhere, then that's great."
In the short term Pazour is weighing job offers to manage a restaurant or return to landscaping work he's done previous summers.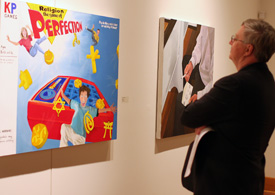 For Juan Diaz, art is his chosen field for a career. Diaz is taking a year off and hopes to do some volunteer work with kids in Chicago in the field of art. His plan is to enroll afterwards at the University of Wisconsin, at Madison, to pursue a Masters in Art Education.
Dan Sutton has taken awhile to complete his senior project, but the time has led him to a strong interest in photograph. "It started with me being a little opposed to the digital age because I was always a straight film guy and always used 35mm camera," the New Castle native said. "I just started using digital this year for this project and it really took me leaps and bounds in the creative world because there were things I could do that I had no idea about. So it's really kind of paved the way for me to warm up to the digital world, so we'll see where that takes me."
He hopes to start shooting professionally for his hometown newspaper. He plans to work for his grandfather this summer at a hometown bank and coach middle school wrestling this fall.
Michael Scott draws larger than life cartoon characters. He'd love to find a way into the world of cartoons and animation. "I am hoping to get into an animation program and learn the ins and outs," Scott said. "I feel like I have character design and character integration pretty well down but the animation is the bigger end of it."
He got into drawing cartoons and characters when he was 12 years old. But as a Wabash freshman, friends and classmates saw his work and encouraged him to major in art.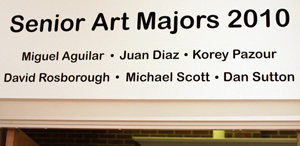 David Rosborough will be moving home to Cincinnati after graduation and trying to gain some experience in the field of architecture. "My interest in architecture goes back to when I was a kid," he said. "I used to really be into building Lego blocks with my mom. I've always kind of been like a neat freak and perfectionist. I feel like it's the way I need to be going."
Miguel Aguilar plans to work on taking the LSAT tests in a year or two and then entering law school. But art will always be an important part of his life. "It's going to be my hobby; it's been my hobby," he said. "It's something that helps me relax. It's really helped me my senior year. It's my passion and helps me to relax."
Calisch enjoy the year-ending experience and watching the students progress to the senior art exhibit. "This is like hatching eggs or herding cats in the early stages," he laughed. "You get students working in a direction they feel comfortable with and you feel comfortable with and then you push them just as far as they'll go comfortably. Then you push them just a little bit more to challenge them. Many of them, most of them, are up to that challenge."
In photos: Monday night's Senior Art Majors Exhibit drew a nice crowd of students, faculty, staff, and President and Mrs. White to the Gallery.