Concert by the Jazz Band this Saturday
• April 15, 2010

Share: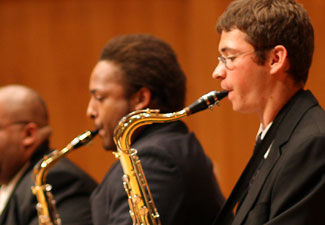 The Wabash College Jazz Band will present a spring concert at 8 p.m., Saturday, April 17, in Salter Concert Hall in the Fine Arts Center.
The Jazz Band, under the direction of Steve Robinett, will showcase the Wabash College Jazz Band and the Jazz Combo.
They will perform Five Foot Two, by Ray Henderson, Mr. Symms by John Coltran, Summertime ala Mode by Steve Robinett, Sandu by Clifford Brown, Milestones by Miles Davis, The Preacher by Horace Silver, Embraceable You by George and Ira Gershwin, Cantaloupe Island by Herbie Hancock, Roses by Steve Robinett, and Scooter by Steve Robinett.
Members include Robbie Clark, Nathan Colglazier, Josh Crayne, Will Drews, Chuck Flowers, Al Jones, Daniel King, Tom Lowe, Michael Mondovics, Christopher Moore, Michael Ritchie, Ronnie Sullivan, and Michael Trevino.
Admission to the concert is free. The public is cordially invited.