Wabash student honors Chopin with recital
by Andy Barrand, Journal Review • April 5, 2010

Share: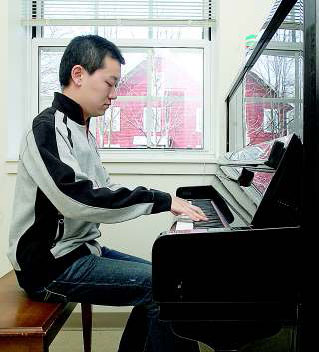 When he is not studying or painting, Wabash College junior Tian Tian buries himself in the works of Frederic Chopin.
Tian, a native of Shenyang in northern China, fell in love with the Polish composer's music at 5 years old when he received a CD of his music. It was at that time that he also started playing the piano, a discipline pushed by his mother, who teaches Italian opera in China.
In honor of Chopin's 200th birthday, Tian will be performing the composer's works during a recital Friday at 8 p.m. in Salter Hall.
Born March 1, 1810, Chopin is considered a great master of romantic music.
"The majority of the pieces will be ones off that first CD," he said. Under the direction of Cheryl Everett, the adjunct instructor of
piano and organ at Wabash College, Tian has been practicing three to five hours a week in preparation for the concert.
"I have been running through the entire concert three or four times a week," he said. "Without the help of Cheryl I wouldn't be able to do this. I have studied hand-in-hand with her."
The first formal piece he learned was "Fantaisie-Impromptu," one of Chopin's longest works.
"I get all of my passion from that piece," he said. "His work is very special to me or I wouldn't be doing this."
After taking two years of formal training in China, Tian said he quit the piano and didn't pick it back up until the age of 12. That's when he found the passion for "Fantaisie- Impromptu."
"I love the way he constructs his pieces," said Tian. "I can incorporate my own experiences into the music when performing it. His music is all about the expression."
Tian decided to play 10 pieces, which a lot of the faculty and students thought was a little ambitious for someone who is not a music major.
"This is exceptionally ambitious," Everett said. "It takes a strong work ethic to put something like this on. College students are so busy that someone who is not a music major or minor usually won't attempt something like this.
"His passion has driven him. He brings the diversity of being an International student and exemplifies Wabash students at their best."
Tian said he decided to come to Wabash because of the diversity the college offers, and because "they offered me the best scholarship."
He is majoring in painting and minoring in economics and French.
"If I would have stayed in China, I wouldn't have had all of these options," he said. "To go to university in China, you have to pick a specific major and that is all you can study."
After graduation, he said he plans to remain in the United States to pursue a career in advertising so that he can incorporate his art,
music and business training