Petty Presented NABC Guardians of the Game Award
by Brent Harris • March 30, 2010

Share:
Wabash College basketball coach Mac Petty received one of the National Association of Basketball Coaches' most prestigious awards as part of the AT&T NABC Guardians of the Game Awards Show at the Murat Centre in Indianapolis, Indiana Sunday, April 4. Petty was presented the Guardians of the Game Award for Advocacy presented by Sof-Sole.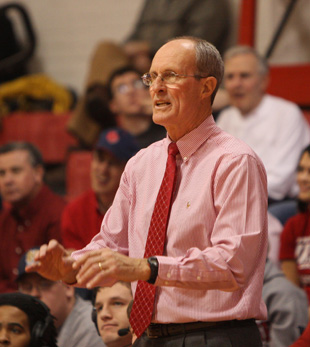 The Advocacy Award recognizes coaches who are advocates for the game of basketball, student-athletes, and coaches, and provide leadership and guidance on issues affecting the basketball community. Former recipients include former Michigan State University head coach Jud Heathcote and Pete Smith from Guerin Catholic High School in Noblesville, Indiana.
Wisconin coach Bo Ryan presented the award. Petty thanked his family, assistant coaches, and members of the Wabash administration gathered to show their support. Earlier in the week Petty had received notes of congratulations from coaches throughout the country heading into the NABC annual convention. Petty, a University of Tennessee graduate who played both basketball and baseball for the Volunteers, ran into current Tennesse head basketball coach Bruce Perl and former Volunteer and current Indianapolis Colt quarterback Peyton Manning Friday evening at dinner. The two offered their congratulations and praise of Petty's work over his career, as well.
Petty closed his acceptance speech by stressing the importance of service in everyone's life.
"The best way to find yourself is to lose yourself in the service of others."
"It's a humbling honor to receive this award," Petty said earlier in the week prior to the awards show. "Advocacy is the overall coverage of basketball. It represents a lot of areas. I'm amazed to think the NABC deems me worthy of this award. It's been difficult to even think about standing on that stage Sunday to receive the award in front of so many great coaches, many of whom I'm fortunate to call my friends. It's really overwhelming.
"I imagine it will be similar to when I received the Coach of the Year Award in 1982. I was a young 35-year-old coach sitting at the dais with Bobby Knight, John Thompson, and Dean Smith and had to stand up and receive that award. Now I'm an old coach and I know a lot of the coaches that will be in attendance, so it's both gratifying and overwhelming at the same time."
Petty, who completed his 34th season as the head basketball coach at Wabash, serves as an NABC congressman and has been a member of the NCAA Basketball Rules Committee. He opened the 2009-2010 basketball season 11th among active Division III coaches in total victories. Petty's Wabash team posted an 18-8 record, giving him 525 career wins in 37 seasons as a college head coach.
He was named the 1982 NABC Division III Coach of the Year after guiding the Little Giants to the NCAA DIII men's basketball title that season. He was also the 1997 NABC Regional Coach of the Year. Petty was named the North Coast Athletic Conference Men's Coach of the Year in 2010 after leading his Wabash squad to a 12-4 record in league play, finishing second in the final conference standings.
Former Wabash assistant coach and current University of New England men's head coach Jason Mulligan nominated Petty for the award.
"I wanted for years to nominate Mac for one of the Guardian of the Game awards," Mulligan said. "The only problem was which of the four categories I would choose since he has contributed so much to each --- Leadership, Service, Education and Advocacy.
"Coach Petty is everything that is right with college basketball. He defines what a college coach is and should be, and has exuded professionalism at the highest level. He continues to give back to the game of basketball through service on countless NCAA and NABC basketball committees. His career should not be summed up by these things and the many other awards he has won, but the lives of all those players that he has touched."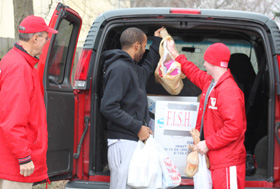 "Playing for Coach Petty has truly been an honor," senior guard Chase Haltom said. "Talk about a guy that knows the game. I think one of the best things is his open door policy, allowing players to come by and talk anytime. It doesn't matter whether it's about basketball, one of your classes, or life in general. , He doesn't just stop at coaching. I believe he is more concerned with how we do in the classroom than how we perform on the court. I think this says a lot for him as coach not only for what he has done for Wabash athletics, but also for the student-athlete in general."
Josh Estelle '00, the all-time leading scorer in Wabash history with 2,065 points, praised his former coach. "There isn't a better man involved in college athletics than Coach Petty. He has won a national championship and a lot of games over his career. His greatest accomplishment has to be the influence he had on the men he coached and how successful they have been after leaving Wabash, in large part because of him. He is truly a great person and I am proud to have played for him at Wabash."
Pete Metzelaars played for Petty from 1978 to 1982, including the 1982 national championship team before going on to a successful career as an NFL player and coach. Metzelaars recalled his days as a Wabash player under Petty.
"Playing for Coach Petty was a joy. He is everything that a coach should be. He is informed, passionate, honest, hard working, and innovative. As I've grown in my career as a coach I can only hope to be like Mac Petty."
Another former Petty player, Josh Kendrick '97, currently serves as the boys' basketball coach at Brownsburg High School. Kendrick led the Bulldogs to the 2008 Indiana Class 4A Basketball title and coached currently Butler University star sophomore Gordon Hayward.
"Coach Petty has meant the world to me," Kendrick said. "I would not be where I am today without his influence. I owe him everything.
"Coach (Petty) has a saying that 'things work out best for those who make the best of the way things work out.' I think he's right, but you also have to have good mentors in your life. He shaped me into the man I am today. He didn't just teach me the X's and O's of the game, he taught me what it means to be a man, to be a father and a husband, and to be a professional."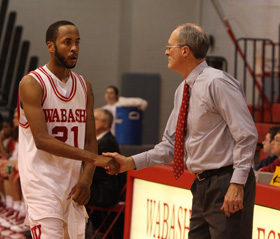 Joining Petty as Guardian of the Game Award recipients will be Columbia (Mo.) College head coach and athletic director Bob Burchard (Leadership), Georgia Tech head coach Paul Hewitt (Education), and former St. Bonaventure and Duquesne head coach and current national director of the Coaches vs. Cancer Program Jim Satalin (Service). Other award presented at the show include the NCAA Division I First and Second Team All-America Awards, the NABC Defensive Player of the Year Award, the NABC/Pete Newell Big Man of the Year Award presented by YRC Worldwide, and the Naismith Trophy presented by AT&T to the nation's most outstanding player. The awards show begins at 6 p.m.

Located in Kansas City, Missouri, the NABC was founded in 1927 by Forrest "Phog" Allen, the legendary basketball coach at the University of Kansas. Allen, a student of James Naismith, the inventor of basketball, organized coaches into this collective group to serve as Guardians of the Game. The NABC currently claims nearly 5,000 members consisting primarily of university and college men's basketball coaches. All members of the NABC are expected to uphold the core values of being a Guardian of the Game by bringing attention to the positive aspects of the sport of basketball and the role coaches play in the academic lives of today's student-athletes. The four core values of being a Guardian of the Game are advocacy, leadership, service and education. Additional information about the NABC, its programs and membership, can be found at

www.nabc.org

.

The annual NABC Convention is held each year in tandem with the NCAA Men's Final Four®.

Photos (top right) - Wabash head basketball coach Mac Petty during a home game at Chadwick Court.




(Middle left) - Petty and players Wes Smith and Chase Haltom deliver nonperishable food items to the Montgomery County FISH Food Pantry. The basketball team holds a food drive every season during home games.




(Bottom right) - Petty congratulates Smith as he leaves the floor during the 2010 NCAC Tournament.




For more information see: