A Celebration of Scholarships
by Jim Amidon • March 29, 2010

Share:
Over 400 students, parents, and scholarship donors gathered Saturday to celebrate one of the College's greatest traditions — scholarship support for talented Wabash students.
The Celebrating Scholarships Luncheon annually brings together the College's endowed scholarship donors and the students who are the beneficiaries of their generosity. See pictures of the festivities
here
.
"Today we gather together to celebrate scholarships and to thank you," President Pat White said to the donors. "Your care and generosity provide the great gift of a Wabash College education."
Dean for Advancement Joe Emmick '92 served as master of ceremonies for the event. Senior Alex Ingram was the student keynote speaker.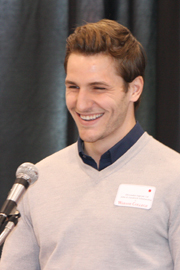 Ingram talked about how his oral comprehensive exam interview got him thinking more about Wabash's tradition of philanthropy. He said Professor Dwight Watson asked him what he thought about Wabash trying to attract more "cash-paying students." Ingram, who grew up on a small family farm in Pendleton, Indiana, realized how fortunate he has been to attend the College.
"Without the generosity of the people with us today, I could not have afforded to come to Wabash College," Ingram said.
He also stressed the fact that donor support goes far beyond just scholarships, and includes nurturing faculty, immersion learning trips, and state-of-the-art facilities.
"It's not satisfying enough to say your gifts just allow hill folk like me to come here," Ingram quipped. "It goes way beyond that. Your gifts have an impact on all of Wabash's students."
President White also spoke on the tradition of philanthropy at Wabash. "As I travel, I hear again and again and again, 'Pat, it wouldn't have been possible for me to attend Wabash College without a scholarship.'"
He also said he frequently talks to alumni who can't recall whose scholarship they received, but through their lives and achievements provide testimony to the greatness of the gift.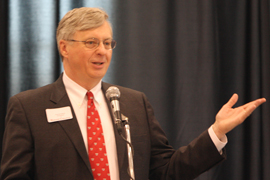 "You Wabash College men," the President said to the students, "are not just passive recipients… You take these gifts and you return the investment 100-fold to your college, to the world, and to your family and friends."
The Wabash College Glee Club's T-Tones group performed three numbers after lunch, and closed the gathering by singing Old Wabash.
Kim Johnson from the Advancement Office helped organize the day's activities. "This event is a unique opportunity for the students and parents to thank those donors face-to-face. By the end of the day, I'm not sure who is more proud of the students - the parents or the donors."
Dean Emmick concluded the event by thanking the alumni and friends for their generosity. "I hope you have seen first hand today that your gifts are an investment in our students with a very high rate of return," he said.