Prof's Publications Parallel Rise of Creative Writing
by Steve Charles • March 19, 2010

Share: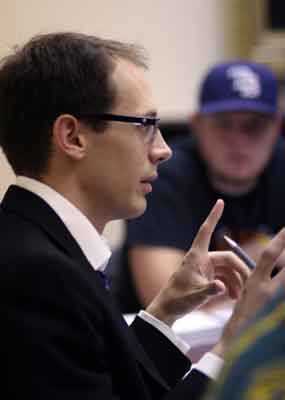 Getting his short stories published is nothing new for Assistant Professor of English Eric Freeze, though having his work accepted by a Pulitzer Prize winner stepped it up a notch.
"I got an email from Junot Diaz telling me the story was going to be published," Freeze says of the acceptance of "Seven Little Stories About Sex" by the Boston Review, for which Diaz is the fiction editor. Diaz is the author of The Brief Wondrous Life of Oscar Wao, which earned the 2008 Pulitzer Prize for Fiction.

Freeze's work has been published in The Southern Review, New Ohio Review, Big Muddy, The Fiddlehead, The Antigonish Review, Prairie Fire, Filling Station, The Nashwaak Review, and Dandelion.
The growing success of one the College's teachers of fiction and creative non-fiction underlines the rising profile of the Wabash writing program, which wraps up its visiting writer series Monday with a reading by Aracelis Girmay, winner of the 2009 GLCA New Writer in Poetry Award. Earlier this academic year, Wabash welcomed critically acclaimed and bestselling author Jonathan Lethem for a reading and afternoon with students as the year's Will Hays Visiting Writer. Last month award-winning writer Benjamin Percy piloted a new writer-in-residence program at the Wabash, leading a writers workshop with the College's student writers. Earlier this week, GLCA New Writer in Fiction Award winner Don Waters met with students and read from his work to the Wabash community.
All these events shine light on the College's planned "writing track," which will allow aspiring writers to focus on their craft during their Wabash careers.
"The English Department is in the middle of proposing a writing track to satisfy student demand for creative writing at Wabash," Freeze explains. "Because of the increased focus on writing, we have started to invite writers who not only visit classes and meet with students, but also privately workshop student work. This provides an essential service to students that usually only exists at the graduate level.
"Every year, in conjunction with our advanced creative writing courses, writers will come as special writers-in-residence to give students a workshopping experience that differs from their regular Wabash-faculty-guided workshop. This feedback allows students to get multiple perspectives on writing and also make connections with established writers who publish widely and often teach at graduate writing programs. We hope that this interaction will lead to improved outcomes in student performance as they seek to publish their own work and make it in the literary and academic marketplace."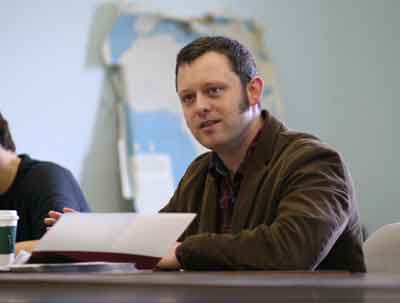 Freeze says that Percy's stay as writer-in-residence earlier this month prompted "a phenomenal response" from his students.
"This sort of interaction with professional writers is a rare treat and an exceptional feature of what we hope will be a robust writing program that will aid in recruitment and also attract some of the brightest existing writers on campus," Freeze says. That program is further strengthened by the teaching of Wabash professor, prize-winning poet, and nature writer Marc Hudson, as well as Professor Tom Campbell's course in creative non-fiction.
Add to all this the College's The Bachelor being named "Newspaper of the Year" in 2009 by the Indiana Collegiate Press Association, two conservative student journals, a variety of other student publications, and recent presentations by writers at the Celebration of Student Research and Creative Work, and the second decade of the 21st century promises to be great time to be a writer at Wabash.
Freeze hopes the interactions and sense of a writers community enhanced by the writing track "will lead to improved outcomes in student performance as they seek to publish their own work and make it in the literary and academic marketplace."
As for his own work, Freeze got some more good news this week: another of his stories, "Francis the Giant," has been sold to the Tampa Review.

In photos: Professor Freeze teaches creative writing; Benjamin Percy workshops stories with students.
Photos by Steve Charles