Nearly 400 Expected for Honors Weekend
by Howard W. Hewitt • March 16, 2010

Share:
Nearly 400 high school students will descend on Wabash Friday for the 117th Honor Scholarship Weekend. Students will take tests, explore living units, be greeted by a College Activity Fair, and interact with future classmates.
The program, one of the oldest in the nation, gives students the opportunity to win scholarships from an available pool of nearly $3.5 million. The program also gives the students a chance to get a feel for life at Wabash College. Each year approximately 75 percent of the incoming class will have attended Honors Weekend.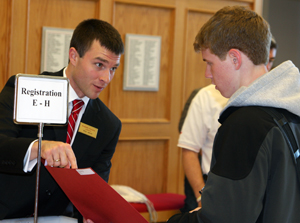 "Honor Scholarship Weekend is a big part of the college search process for so many of the high school seniors who are considering Wabash," Dean of Admissions Steve Klein said. "This weekend provides considerable free time for prospects to spend time with Wabash students in a relaxed atmosphere. For many, it is their first chance to spend the night and get a better understanding of social life opportunities."
The day kicks off with registration and an activity fair. The fair has become a popular part of the annual weekend with student organizations, clubs, and sports all with tables in Chadwick Court. It gives the young prospects a chance to see activities they might want to continue or give a try during their college careers.
There is an official welcoming ceremony in the Chapel with President Patrick White, Student Body President Cody Stipes, Independent Men's Association President Christopher Sidebottom, and Interfraternity Council President Alex Moseman.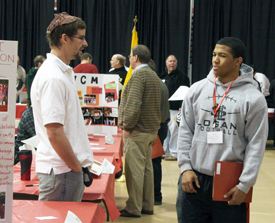 Friday afternoon is devoted to testing and academic sessions. An Honor Scholarship dinner is held Friday evening with most of the night free to tour fraternities and residence halls.
On Saturday the morning will be set aside for more testing with free time in the afternoon to meet with coaches or attend a home track or tennis meet. After Saturday dinner in their host living unit, students will be invited to see mentalist Robert Channing perform in the Fine Arts Center.
Obviously parents play a big part in any student's college decision. A Friday program tailored to the Moms and Dads runs concurrently with the Friday student program.
Friday morning features campus tours and a parents' panel. The parent's panel features parents of current Wabash men to talk about how their sons adapted to College life and answer questions. Parents will attend the same welcoming ceremony and d then join faculty and staff for lunch.
In the afternoon the parents will see student research presentations, hear from students about immersion learning, and hear from the Career Services staff.