Gerstner Named to Orbitz Worldwide Board
• March 8, 2010

Share:
Orbitz Worldwide, Inc. has announced the appointment of Wabash alumnus Brad Gerstner '93 to its Board of Directors, effective immediately. Gerstner is CEO of
Altimeter Capital Management,
a Boston-based investment firm.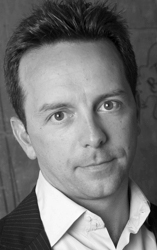 "We are delighted to have Brad Gerstner joining the Orbitz Worldwide board," said Barney Harford, president and CEO of Orbitz Worldwide. "Brad brings a deep online travel background, and we look forward to working closely with him."
Gerstner is CEO of Altimeter Capital Management, a Boston-based investment firm, which he founded.
As an undergraduate at Wabash, Gerstner was a political science major and member of Sigma Chi. After graduating from Wabash, Gerstner earned a law degree from Indiana University and an M.B.A. from Harvard Business School.
Previously he served as Vice President at PAR Capital Management from 2005 to 2008. Before PAR he served as Co-CEO of National Leisure Group and also worked at General Catalyst, a Boston-based venture capital firm.
Brad has also served as Deputy Secretary of State of Indiana.
He currently serves on the boards of directors of Silver Rail Technologies, Inc. and Expert Media, Inc.
Orbitz Worldwide is a leading global online travel company that uses innovative technology to enable leisure and business travelers to research, plan and book a broad range of travel products. Orbitz Worldwide owns a portfolio of consumer brands that includes Orbitz CheapTickets, ebookers, HotelClub, RatesToGo, the Away Network, and corporate travel brand Orbitz for Business.