Tim Lake Outlines 'Dreams Deferred' in Chapel Talk
• February 25, 2010

Share:
Dr. Tim Lake, English Professor and director of the Malcolm X Institute of Black Studies, delivered Thursday's Chapel Talk.
See his complete talk on Wabash College's YouTube page.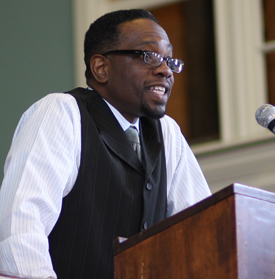 Lake spoke about the days leading up to his remarks and how his thoughts turned to his first speech four years ago. He noted the College had a new president, Dean of the College, Chief Financial Officer, and plenty of new faculty members.
He recalled portions of President Patrick White's Inauguration Speech "In Dreams Begin Responsibilities."
"The President dared us to dream uncommon dreams," Lake recalled. "The MXI is a dream deeply rooted in the Wabash dream."
He talked about the 1960s when students petitioned for a Black Studies center, studies program, and more black faculty. He noted that Music Professor Dr. James Makubuya became the first tenured African-American professor.
"But the dream of a black studies program continues to be deferred," he said.
He saluted students who stood up for what they believed in during recent discussion on C&T classes, and faculty who supported the drive for a black studies curriculum, and noted his encouragement by the action of the men of MXI.