Wabash Seniors Want NCAC Title
by Howard W. Hewitt • February 25, 2010

Share:
Sportswriters embrace tired clichés' such as 'it's tough to beat the same team three times in one season.' Wabash Coach Mac Petty is having none of that as his team prepares to face Wittenberg in the semifinals of the NCAC basketball tournament Friday at Wooster.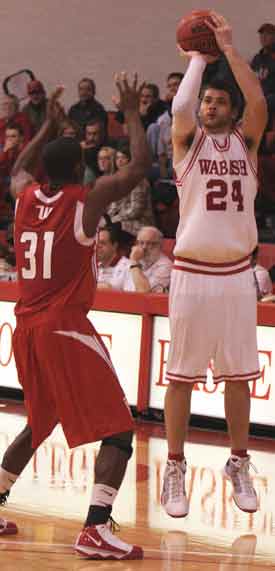 Wabash, winners of 15 of its last 17 games, will face a Tiger team they've beaten twice this season. The Little Giants had never won at Wittenberg before.
"If Wittenberg would happen to beat us it would not come down to the fact we beat them twice," Petty said. "It would be because they played better than we did. They made more baskets and we didn't."
The veteran coach also said the three-game chess match occurs more often now because of round robin conference play. "I would think that if you really statistically looked at it the teams that won twice probably win more than they lose (the third time.)"
Tuesday's 73-54 win over Denison pairs the Little Giants against their long time basketball and football rivals Wittenberg. Tipoff will be at 6 p.m. Friday. The Tigers beat Hiram, 85-62, to advance. The other side of the bracket will pair NCAC champ Wooster against Ohio Wesleyan. Saturday night's winner moves to the Div. III NCAA playoffs.
"We beat them here and beat them on their court, this will be a neutral court so I think we can handle it," said senior guard Chase Haltom. "We've got a bunch of veterans on the team. We have some guys who are used to this and have done it in the past. We're just looking to get over that NCAC hump and go to the next level."
The season sweep started January 20 at Chadwick Court when the Little Giants controlled rebounding for a 64-57 win. Wes Smith's 15 and Aaron Brock's 13 points led Wabash. The return match Feb. 17 gave Wabash its first-ever win in Springfield, 72-69, powered by four Little Giants in double figures.
Wabash out-rebounded Witt in both contests. Energy on the boards could be the difference maker the third time.
"We have to come out with energy on Friday night, that's the biggest thing," senior forward Aaron Brock said. "We fall behind in games because we come out not real energetic or not real focused. We always make a run in second half like we did at Wittenberg; we always make that run but sometimes it's not enough. We've got to get a lead and make sure we don't have to wait until the last 10 minutes to win the game."
Petty said the keys to beating Witt the third time is focusing that energy into defense. "What we've been doing recently is playing good defense and taking care of the basketball," the coach said. "Our goal was not to have more than 12 turnovers a game and recently we've been pretty good at that. The game at Witt, we had 16 turnovers but we only had 5 in the second half.
"Plus, we've been defending people. We've held nearly everyone we've played lately below their season average. We're leading the conference in defense. What I've really liked lately is we're scoring better and our field goal percentage has improved."
Guard Chase Haltom talks (below) about the keys to winning this weekend and the impact an NCAC title would have on he and senior teammates.