Strausbaugh, Burke Headed to Nationals
by Brent Harris • February 20, 2010

Share:
Jake Strausbaugh was named the Outstanding Wrestler of the 2010 NCAA Division III Midwest Regional after qualifying for the national championship meet. Strausbaugh won the 141-pound weight class, while teammate Michael Burke received a wild card bid from the coaches after finishing second at 197 pounds.
Strausbaugh and Burke are the first Wabash duo to advance to the NCAA Championship Wrestling Tournament since Phu Hong and All-American Chris Healy earned spots at the 2005 tourney.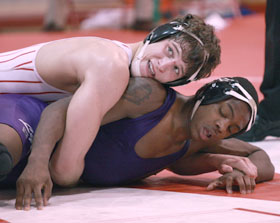 Strausbaugh
(left)
entered Saturday's Regional tournament as the number-two seed with a 37-9 record. He scored a 17-0 win over Manchester's Neeko Paris in the first round, then earned a 23-6 victory over Zac Andrews from Delaware Valley in the semifinals. The freshman took on top-seeded Vince Tucker from Olivet, who entered the finals with a season record of 29-2. Strausbaugh battled to a 9-4 victory to take the weight class title and earn the automatic trip to the National Championship meet. The loss was Tucker's first at the hands of a Division III opponent this season.
Burke was the top-seed at 197 pounds. He opened with pin in his first match against Joseph McAllister from Olivet, then scored a 10-4 victory against Robbie Mies from Washington & Jefferson in the semis. Burke met second-seeded Martin Porter from the host school, Delaware Valley, in the finals. Porter picked up a 9-5 victory to take the automatic bid, but Burke's efforts earned him one of six wild cards awarded to the Midwest Region.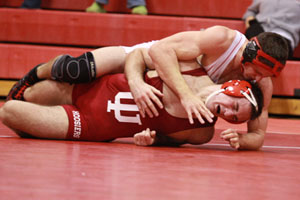 Strausbaugh and Burke
(right)
will compete at the NCAA Division III National Championship meet March 5-6 at U.S. Cellular Center in Cedar Rapids, Iowa.
Greg Rhoads and Rob Arnett each advanced to the semifinals of their respective weight classes. Rhoads opened with a pin at 2:25 of his 174-pound bout against Jacob Kornblatt from Case Western Reserve. A 6-4 upset victory by Trine's Ryan Pieper dropped Rhoads to the consolation bracket, where he finished fourth overall. Rhoads recorded a pin in his first consolation bout before losing 3-1 in the consolation finals.
Arnett won by pin in overtime (10:26) in his first 285-pound match against Melvin Warrick of Waynesburg. A 6-0 loss to Sean Jameson from Mount St. Joseph was followed with a 3-1 win over Taylor Potts from Washington & Jefferson in the consolation semis. Arnett won his final bout 2-0 over Spencer Fulk from Manchester to finish in third place.
Bryan Hugo lost his first 184-pound match 7-5 in overtime before rallying for two straight victories (6-1, 3-1) in the consolation bracket. A 4-0 loss in the finals earned Hugo fourth place overall.
Wabash finished sixth in the team scoring with 81.5 points. Delaware Valley won the Regional with a total of 132.5 points.