Organist Stefan Engels to Give Recital
• February 18, 2010

Share: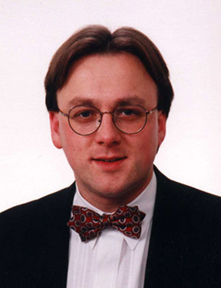 The Wabash College Music Department invites the public to the 11th annual Roger H. Ide Organ Recital at 3 p.m., Sunday, February 21, in Pioneer Chapel. This year's recital will be played by
Stefan Engels
.
He will perform Dankpsalm Op. 145/2 by Max Reger, Concerto C Major BWV by Johann Sebastian Bach, Transcription for Organ of the concerto in D Major by Antonio Vivaldi, Andante sostenuto f Minor by Felix Mendelsohn Bartholdy, and Symphonischer Choral Jesu, meine Freude op. 87/2 by Sigfrid Karg-Elert.
Stefan Engels began his tenure as Professor of Organ in the fall of 2005 at one of Europe's most prestigious and oldest musical institutions, the University of Music and Theatre "Felix Mendelssohn Bartholdy" in Leipzig, Germany. This appointment was preceded by his position as Associate Professor of Organ and Chair of the Organ Department at Westminster Choir College in Princeton, NJ.
Since his appointment in Leipzig, Engels has shaped the University's Church Music Institute as a centre for organ performance and organ pedagogy of international acclaim. He is the founder and Artistic Director of the European Organ Academy Leipzig which attracts faculty and students from around the world. In 2009 the Academy was given a generous grant from the German Academic Exchange Service. Engels is also the initiator and Chair of the Jury of the First International Competition in Organ Improvisation in Leipzig which took place for the first time this past fall. Furthermore, as an advocate and specialist for the music of the late-Romantic German Composer Sigfrid Karg-Elert, he founded the Karg-Elert Festtage in Leipzig, demonstrating and discovering the unique works of this Leipzig composer. In 2006 Stefan Engels was named Artistic Director of the Jordan International Organ Competition based at Columbus State University in Columbus, GA.
Engels maintains a vigorous international concert schedule and is a sought-after teacher, having presented lectures and master classes across the European continent, North America, and South Korea. Engels frequently serves on juries at international organ competitions. In March 2010 he will serve on the Jury of the Deutscher Musikwettbewerb 2010.
Engels has recorded two highly acclaimed CDs with works by Marcel Dupré on the Naxos label and one CD with works of Karg-Elert, Reger, Messiaen, and Germani on the Priory label as part of their Great European Organ Series. His specialization in the organ works of Sigfrid Karg-Elert has resulted in the world premiere recording of the complete organ works of Karg-Elert, also on the Priory label.
Stefan Engels received his broad musical education in Germany and the United States. He studied organ, piano, harpsichord, choral conducting and church music at the Universities in Aachen, Düsseldorf, and Cologne. From 1993 until 1998 he pursued further organ studies with the late Robert Anderson in Dallas and Wolfgang Rübsam in Chicago. He achieved his international break-through when he was awarded the "Concerto Gold Medal" at the 1998 Calgary International Organ Competition. Since then he has been represented by Karen McFarlane Artists Inc. of Cleveland, OH.
The annual Roger H. Ide Organ Recital is funded by a bequest from Dr. Roger Ide, Class of 1959, who served as the Wabash College organist while he was a student. The memory of that experience was such a pleasant one for Dr. Ide that he chose to perpetuate the music with a gift that makes it possible to enjoy organ recitals for years to come.
The concert is free and open to the public.