National Capital Group Hosts President and Mrs. White
by Tom Runge • February 18, 2010

Share: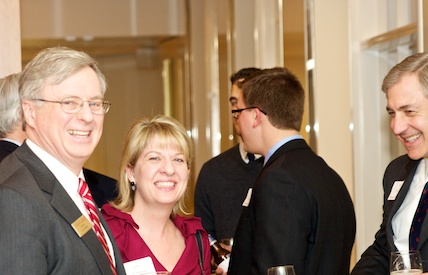 A great crowd and a lot of leftover snow greeted President and Mrs. White as they returned to the nation's capitol for a reception and dinner at the Jones Day Law Firm. Loaders and dump trucks were still carrying the snow away from the downtown and the usual traffic challenges were increased, but the Wabash group was in great spirits as they welcomed the Whites back to town.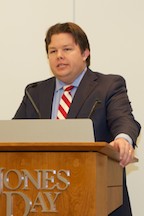 National Capitol Association president, and Jones Day associate, Scott Medsker '03 served as the evening's emcee. He introduced Alumni Board president-elect Greg Castanias '87, a partner at Jones Day, who explained the beginnings of the National Capital group and the importance of the Jim Graham '65 Externship Program. By the end of the evening, the assembled group had pledged over $4,000 for the program!
Medsker then introduced President Pat White who provided an update on the college. President White explained the efforts underway to work through the college's financial challenges. He also walked the group through the soon-to-be-announced Major Gift Initiative which will help the college continue to operate from a position of strength over the next several years. White expects the Initiative to go public in the near future. Before taking questions, White stated that a decision on going ahead this year with the planned the Athletic Fields upgrades would be made this spring.
The evening ended with a loud singing of "Old Wabash"!
Many thanks go to Scott Medsker for setting up the evening and to the staff of Jones Day for a superb meal – well done!
Photos:
Top - President Pat White shares a light moment with Jane Castanias and Pete Davis '78.
Right - Scott Medsker '03 welcomes the group at dinner.