Noted Duke Scholar in Residence at Wabash
• February 12, 2010

Share:
Dr. Mark Anthony Neal, Professor of Black Popular Culture in the Department of African and African American Studies at Duke University, will be in residence at Wabash as the Owen Duston Visiting Minority Scholar.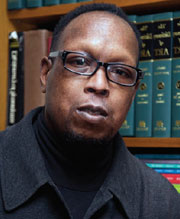 Dr. Neal will be on campus Wednesday through Friday, February 17-19. While on campus, the noted author will give two public presentations and take part in six classes over three days.
His public presentations include a Wednesday afternoon discussion of his book, New Black Man, at 4:15p.m. in Center Hall, room 216.
He will also give the annual Malcolm X Institute of Black Studies Lecture on the legacy of Malcolm X. That lecture, "In a Circle of Friends: Malcolm X and the Social Network of Possibility," will be given at 7:00 p.m. on Thursday, February 18 in Hays Hall, room 104.
"Neal is an exciting visitor for a liberal arts college since his interests and scholarly research cover so many areas," said Associate Dean Cheryl Hughes. "We've had a reading group with students, faculty and staff meeting to discuss his book, New Black Man, to prepare for his visit, and one of the highlights next week will be talking about this book with the author sharing his own views about what it means to be a man and a black feminist man."
Dr. Neal will also take part in at least six classes while on campus (all of which are open to the entire Wabash community), including:
• Professor Tracey Salisbury's African American History with Tracey Salisbury (11:20 a.m. Wednesday in Baxter 101).
• Professor Tim Lake's Pen and Protest English course and Professor Vanessa Rogers' music course at 2:10 p.m. Wednesday in Korb Classroom in the Fine Arts Center.
• A joint meeting of Professor Julia Levin's philosophy course and Professor Jennifer Abbott's rhetoric course on Thursday in Baxter 114,
• Warren Rosenberg's multicultural literature course at 1:10 p.m. in the upstairs classroom in the Malcolm X Institute on Friday.
"It's exciting to bring to campus someone who crosses and connects so many areas of the College," said Dean Hughes.
Dr. Neal holds a doctorate in American Studies from the State University of New York at Buffalo. He is the author of four books, What the Music Said: Black Popular Music and Black Public Culture (1998), Soul Babies: Black Popular Culture and the Post-Soul Aesthetic (2002), Songs in the Keys of Black Life: A Rhythm and Blues Nation (2003) and New Black Man: Rethinking Black Masculinity (2005).

Dr. Neal has appeared in several documentaries including Byron Hurt's acclaimed
Hip-Hop: Beyond Beats and Rhymes
(2006), John Akomfrah's
Urban Soul
(2004) and the BBC's
Soul Deep: the Story of Black Popular Music
(2005). A frequent commentator for National Public Radio, Neal also contributes to several on-line media outlets, including The Root.com, Popmatters.com and SeeingBlack.com, and also maintains the New Black Man blog at
NewBlackMan
The Owen Duston Visiting Scholars and Artists Program at Wabash College started 30 years ago and was named to honor Professor Owen Duston, who taught English literature at Wabash from 1955-1970. Professor Duston was "a teacher who showed special interest in our few black students, and the one who, every year at the first meeting of the faculty, asked how many black freshmen had matriculated."
In his honor, the College invited a wide range of scholars and artists to campus for short visits of 3-5 days from 1981 through 1986. Beginning in 1986, the College moved away from the short visits to appointment of minority scholars to the regular faculty as Owen Duston Visiting Minority Professors. This year, Wabash reinstated the short visits with Dr. Rodney Hero (Political Science, Notre Dame) coming to campus last fall and Dr. Neal this spring.