Neal to Deliver Annual MXI Lecxture
by Karen Handley • February 12, 2010

Share: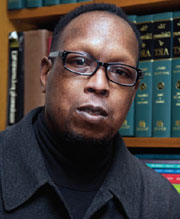 Wabash College will host Mark Anthony Neal at 7 p.m., Thursday, February 18, in room 104 in Hays Hall. His lecture, "In a Circle of Friends: Malcolm X and the Social Network of Possibility," is free and open to the public.
Neal is Professor of Black Popular Culture in the Department of African and African-American Studies at Duke University. He holds a Doctorate in American Studies from the State University of New York at Buffalo.
Neal is the author of four books, What the Music Said: Black Popular Music and Black Public Culture (1998), Soul Babies: Black Popular Culture and the Post-Soul Aesthetic (2002), Songs in the Keys of Black Life: A Rhythm and Blues Nation (2003), and New Black Man: Rethinking Black Masculinity (2005).
Noted scholar Michael Eric Dyson praised Neal's recent book, "New Black Man is a brilliant, courageous, engaging and imaginative manifesto for a radical new vision of black masculinity."
Neal is also the co-editor (with Murray Forman) of That's the Joint!: The Hip-Hop Studies Reader (2004). Neal is currently completing, Looking for Leroy for New York University Press.
He has appeared in several documentaries including Byron Hurt's acclaimed
Hip-Hop: Beyond Beats and Rhymes
(2006), John Akomfrah's
Urban Soul
(2004) and the BBC's
Soul Deep: the Story of Black Popular Music
(2005). A frequent commentator for National Public Radio, Neal also contributes to several on-line media outlets, including The Root.com, Popmatters.com, and SeeingBlack.com. Neal also maintains a blog at
NewBlackMan
.
Professor Neal will be visiting campus on Wednesday February 17 through Friday February 19 as the Owen Duston Visiting Minority Scholar.