Brad Maxwell '83
• February 23, 2010

Share: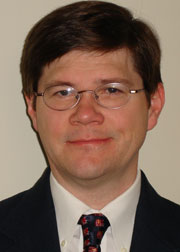 Brad is a Principal Scientist in the Radiochemistry Group of Bristol-Myers Squibb in Princeton, NJ specializing in Metabolic Diseases and Cardiovascular Drugs. He received his Ph.D. in Organic Chemistry from Purdue University in 1988. Brad is active in the International Isotope Society serving as the President in 2007 and 2011 and as a co-organizer for the 10
th
IIS Meeting in Chicago in 2009. He is one of the Special Editors for the Proceedings of the 10
th
IIS Meeting to be published in the
Journal of
Labelled Compounds and Radiopharmaceuticals
and also serves on the Advisory Board for the same journal. He has more than 20 publications in peer-reviewed journals and has made more than 50 presentations at scientific meetings. He has represented Wabash at several College Fairs, mentored a summer student from Wabash in his lab and is active in the Central New Jersey Alumni Association. Before moving to PA, he founded the Kalamazoo, MI Wabash Alumni Association, hosted a Monon Bell Telecast, and co-organized two tailgate parties prior to Wabash versus Kalamazoo College Football Games. Brad, his wife Angela and their two sons live near Doylestown, PA. Brad is a member of the 1832 Society.