Bachelor: Students Slow to Embrace Twitter
by Wyatt Lewis '13 • February 5, 2010

Share:
Why is it that in the world of social networking some of the most cyber-savvy navigators of the Internet age refuse to set foot on "tweeting" ground? Why does "twittering" constantly seem to receive a bad rap? And if it is so bad, why did ComScore find the leading age demographic to be those between 45-54 year olds?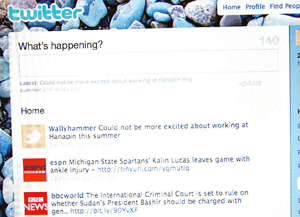 The late teens/mid-twenties age group follows a close second. A poll of nearly 500 Wabash students showed that only nine percent of the student body uses
Twitter
. Twelve-percent said they dislike Twitter and thirteen-percent remain completely indifferent. A stunning 66-percent of the students said they are totally clueless about how the site works.
Senior and Malcolm X Institute Chair Brandon McKinney is a member of that first group. He has 121 followers, and he updates his Twitter account 15-20 times a day.
"It's like a series of Facebook statuses," he explained. "You can choose to 'follow' a user on there and check out what's happening to them during the day. You can add pictures, but you can't add albums or anything."

McKinney believes many people in his generation just haven't taken the time to learn and to adjust to the new medium, and he believes a lot of it has to do with technological habits. Updating twitter on a phone tends to be more convenient than on a computer.
"If you're just going on the website and updating your status, it's kind of boring. The phone app makes it more exciting."
Twitter launched four years ago, and more than 18 million users have accounts on the site. However, one statistic found that 60-percent of new twitter users quit in the first month. At a passing glance, Twitter can be mistakenly perceived as an outlet for narcissistic or voyeuristic tendencies, but Twitter users claim that to be an overly-simplistic image of the site.
"Twitter doesn't seem to be popular among the high school and college students, and that's because their friends aren't on Twitter, so they flock toward Facebook instead," Michael Carper '13 said, "I think right now Twitter operates as a sphere full of different realms. Say right now your interest is sports or Indiana politics or a certain TV show…you go on Twitter and find those people that have those same interests, whom you probably haven't met in real life and use it to share information."

The point of Twitter, Carper explained, is not necessarily to socialize with existing friends.
"Most of the Tweets I read are not from people I know," he said. "Mostly I read tweets from political commentators or comedians, because those are the kind of users that actually have incentive to continue blogging. In order to gain followers, you have to update your Twitter pretty frequently, at least a couple times a day."
The forum is also much more public, Carper explained, "I like that you can communicate with celebrities. Ashton Kutcher, for example, is one of the big Twitter users. You can tweet a celebrity, and he might tweet you back. It has a much more professional feel; you see a lot of businesses, graphic designers, and bloggers trying to network. "
Chip Timmons
, Associate Director of Admissions and a well-known social media enthusiast, elaborated on the professional uses of Twitter.

"I don't use it as an admissions page per se, but as a way for me to promote Wabash and talk about myself a bit," he said. "It's kind of a creative outlet. Marketing agencies in higher education will often post things and be looking for future clients and customers, trying to find ways to advertise."
The biggest dilemma with Twitter seems to be the commitment.
"Whereas people find you obnoxious if you update your Facebook 20 times a day, it's almost recommended on Twitter," Timmons said, "People will often 're-tweet,' or post someone else's tweet as their own if they find something interesting. It's a way to virally spread good news; it's the equivalent of 'liking' someone's status on Facebook.
Twitter is social interaction with your friends and people or things you're interested in with a lot less noise; you don't have to worry about Mafia Wars or who rescued the 'lonely, brown cow.' I'm interested to see in how it takes off in the future."