Little Giants' Game Vs. Witt is Key
by Matt Wilson
The Journal Review • January 20, 2010

Share:
Junior guard Wes Smith can't remember the last time the Wabash basketball team was in second place in the North Coast Athletic Conference this early in the season.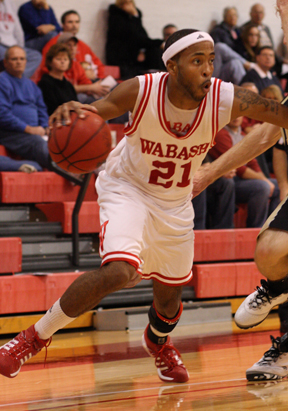 The Little Giants have an opportunity to reach that spot when they host Wittenberg at 7:30 p.m. today. The Little Giants come into the contest on a five-game winning streak and at 9-5 overall and 4-2 in league play. Wabash is tied with Hiram (7-8, 4-2) in league play.
Wittenberg is on an eight-game winning streak, sitting in second place in the conference at 13-2 overall and 5-1 in the NCAC. Wooster leads the conference with a 6-0 mark.
"The main thing we have to do is just stick to the same game plan we have been on during this five-game winning streak," Smith (left) said. "We just have to keep on
playing forward."
Senior guard Chase Haltom understands the importance of tonight's game.
"This would give us a chance to get to second place in the conference, but if we lose to them then we are two games back and we still have to play them at their place," Haltom said. "So this would be a huge win for us."
The Tigers have won nine of their last 10 games, with the lone loss in that stretch being an 86-69 setback at Anderson. Wittenberg has won its last four league games by an average of more than 23 points.
Wittenberg and Wabash have nearly averaged the same amount of points this season, with Wittenberg ranking second in the league at 74.9 points per game and Wabash third at 73.9 points. The Tigers and Little Giants are even closer in scoring defense, with Wittenberg ranking second in the league by allowing 64.3 points per game and Wabash third at 64.6 points.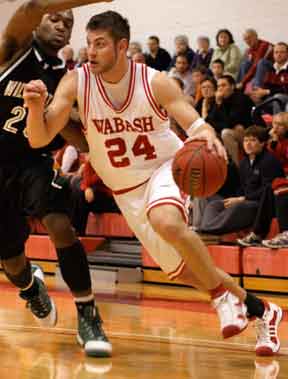 Wittenberg leads the league by shooting 38 percent (140-for-370) from 3-point range. The Tigers lead the league in 3-pointers made, averaging more than nine per game. Senior guards David Nowicki (46 percent) and Kyle Bigler (44 percent) are 1-2 in the league in 3-point percentage.
Junior guard Chris Sullivan is second in the league with 42 3-pointers made.
"The main thing we have to do defensively is turn their 3's into 2's, because they have some guys that can shoot the 3-pointer," Haltom said. "We have to make them drive to the basket and contest their outside shots. We also have to rebound, because defensive rebounding has been a weakness for us. If we can do those two things, we have a good chance to come away with a win."
Wabash has three players averaging in double figures, while Wittenberg has two. Smith leads the conference with his average of 19.6 points per game, while senior forward Aaron Brock (right) averages
13.4 points per game and Haltom averages 11.8 points.
Sullivan averages 11.7 points and sophomore wing Josh McKee averages 11 points. Beyond those two players, Wittenberg has junior wing Seth Hill (9.5 points), sophomore wing Michael Cooper (8.1
points) and senior center Mark Snyder (7.1 points) all averaging at least seven points per game.
Led by Cooper's 21 points, Wittenberg had four players reach double figures in Saturday's
85-73 victory over Allegheny.
Brock provided 21 points in Saturday's 70-51 win over Denison and has averaged 18.6 points over the Little Giants' last five games.
"The big difference for us during this winning streak has been Aaron Brock," Smith said. "He seems to be back to the way he was playing his freshman and sophomore years and his elbow seems to be healed."