Obama Tabs Wedgeworth for Board
by Jim Amidon • January 20, 2010

Share:
President Barack Obama announced his intent to nominate Wabash alumnus Robert Wedgeworth to a key administration position.
Wedgeworth, Class of 1959, is the retired president of ProLiteracy Worldwide and has served Wabash as president of the National Association of Wabash Men and as a long-serving member of the Board of Trustees.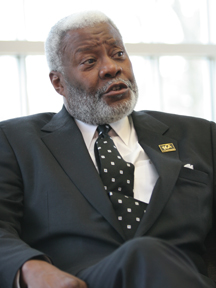 Wedgeworth has been nominated to serve on the National Museum and Library Services Board of the National Foundation on the Arts and the Humanities. The announcement was made Tuesday when President Obama nominated several individual for administration posts.
"These individuals will bring proven talent and dedication to their roles. I am grateful they have chosen to serve in my administration, and I look forward to working with them in the months and years ahead," President Obama said of the group.
Wedgeworth was the founding President of ProLiteracy Worldwide, the largest non-governmental adult literacy training organization in the world, until his retirement in June 2007.
He previously served as University Librarian, Professor of Library Administration, and Professor of Library and Information Science at the University of Illinois at Urbana-Champaign.
He also served as the Dean of the School of Library Service at Columbia University, the Executive Director of the American Library Association, and as President of the International Federation of Library Associations and Institutions.
In 1975 President Gerald R. Ford appointed Mr. Wedgeworth to the National Commission on New Uses of Copyrighted Works.
He is a life member of the American Library Association, a life member of the National Association for the Advancement of Colored People (NAACP), a member of the Board of Trustees of Wabash College, the Board of Trustees of the Newberry Library, and a member of the Board of Trustees of the Poetry Foundation.