More than 150 students who rank in the Top Ten of their high school class will be on campus Friday for Admissions' Top Ten Scholarship Visit Day.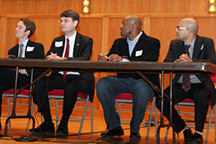 The annual Top Ten Day is one of Wabash College's biggest recruitment days of the year. Students who rank in the top 10 percent of the class and participate in the day could earn Top Ten Scholarships worth $15,000 a year. For students in the top five percent, the scholarship is $17,500 yearly.
Students and family members will begin arriving at 8:45 for a full day of activity. Dean of Admissions Steve Klein and President Patrick White will welcome the young men to campus. Scott Smalstig '88, President of Joseph David Advertising, will give the key address.
The parents and students then go in different directions but with the same agenda. Parents tour campus then hear from a panel of Wabash alums. The students hear from the graduates and then see the campus.

The groups get back together for lunch before an information packed afternoon.
Students will have a choice of two different academic sessions led by Wabash faculty. Parents will hear about immersion learning and financial aid. Athletic coaches are available at the end of the day for those students who wish to participate in intercollegiate athletics.
In photos: Last year's alumni panel discuss Wabash. At left, Smalstig.