Kids who take part in the Youth Services Bureau Juvenile Mentoring Program (JUMP) will be the beneficiaries of the first ever partnership between Wabash College, Ivy Tech, and the Youth Services Bureau. This Saturday, Wabash will host "Computers and Colleges are for Kids, too" in the Lilly Library Computer Lab.
"Ivy Tech is a community college, which means that we engage our community at every available opportunity," said Josh Brewer, who teaches English at Ivy Tech and is married to Wabash English professor Agata Szczeszak-Brewer. "Because there are only two small colleges in Crawfordsville, I thought it made sense for us to come together."
The goal of this first-ever program is to introduce local kids, from 11 to 18 years old, to higher education. Using computers and games, the kids will improve their technology literacy, while having fun learning — and learning about higher education, too.
"We think education is the best way to have an impact on people's lives," said Brewer, "and we believe that everyone can go to college. Technological illiteracy is one of the major stumbling blocks for underprivileged children, and we hope to address that and have fun while doing so."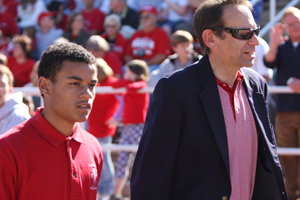 While the idea for "Computers and Colleges are for Kids, Too!" was Brewer's, he was influenced by a range of people in the community. Dean of Admissions and Financial Aid Steve Klein has been involved with the Youth Services Bureau and its mentoring program for years, and introduced Brewer to the program. (Steve is pictured with his longtime YSB mentee, Kentai.)
Theater professor Mike Abbott not only uses computers and gaming as a pedagogical tool, he gave Brewer an old computer to give to Brewer's YSB mentee.
And Brewer's former boss at Purdue, Samantha Blackmon, keeps a blog and uses computer games in educational ways.
"Before, I never would have connected computers and community service, and Professor Abbott's blog (brainygamer.com) got me thinking about the educational side of computer gaming," said Brewer.
Chemistry professor Lon Porter will be involved, as will a number of Wabash students, including Leo Helfer, Ryan Stephens, and Trevor Counceller, when the YSB kids gather Saturday morning at 10 a.m. in the Lilly Library Computer Lab.
Brewer sees lots of opportunities for this partnership between the YSB, Ivy Tech, and Wabash.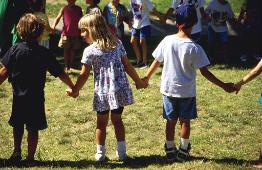 "I see this as a way of encouraging kids to go to college, helping them with homework and computer skills, and having some fun on a Saturday playing games," said Brewer. "And perhaps we can also get Wabash students interested in the YSB's Juvenile Mentoring Program."
The YSB's Juvenile Mentoring Program matches at-risk children from the community with adults for healthy, positive activities a couple of hours each week.
For more information, see the YSB's JUMP program.
Brewer credits a number of people who have been instrumental in getting the program off the ground, including Nancy Hartley, administrator at the Youth Services Bureau; Roselie Bambrey, the site director for Ivy Tech Crawfordsville; and Professor Porter of the Chemistry Department at Wabash.