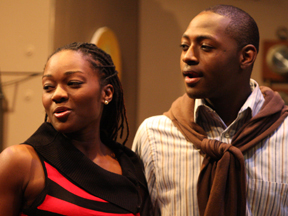 The Dating Game meets Reality TV — and it all happens on the stage of the Experimental Theater at Wabash College. Amina McIntyre's new play, Most Eligible Bachelor, runs through Saturday with curtain time at 8:00 p.m.
See pictures from the final dress rehearsal here and here.
Not only is Most Eligible Bachelor an original play written by McIntyre, who is assistant director of the Malcolm X Institute of Black Studies, it also marks the debut of Anthony Morton as the play's director.
The play follows Theresa, a 20-something woman fed up with dating the same men and looking for Mr. Right. Theresa's friend, Christy, helps her come up with an ideal plan to find the perfect man — a competition called the Most Eligible Bachelor.
"I feel that the play is unique in that it may be the first play I've ever come across that is a dramatic spoof of reality television, specifically shows such as The Bachelor or The Bachelorette," said first-time director Anthony Morton.
Over the course of 90 hilarious minutes, men are interviewed by Theresa, played by Chanel Darby, and Christy, played by Mackenzie Hepburn, for the right to go out on a date with Theresa.
The bachelors include smooth-talking Adrian, played brilliantly by Ronald King, Juan, played by sweet tough guy Nate Powell, and Theresa's old flame, Charles, played by stage veteran Daniel Masterson.
But there are other men trying to steal Theresa's heart — porn fan Ulysses (Kendrick Tucker), a slick-looking pimp (Greg Huey), a disheveled bum, and a father of four (both played by Jake Sauer).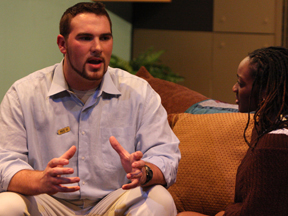 "I think students should come see the show because the characters are so raw, real, and identifiable to the point where if you, yourself are not connecting with any of the characters, then it's likely you have friends that come to mind when one of the characters does this or that action on stage," said Morton.
McIntyre has written several short plays, but Most Eligible Bachelor is her first large-scale production.
"Most Eligible Bachelor is a new play I started writing last summer with my MFA program," said McIntyre. "It is also my first full-length production, which is exciting and scary all in the same breath."
The play is one of two being produced in the final weeks of the school year. The Importance of Being Earnest opens next week for a four-show run.
"I'm grateful to the entire Theater Department, especially Michael Abbott, for saying yes and being supportive of the event," added McIntyre.
Since Most Eligible Bachelor isn't being produced as part of the regular theater season, McIntyre has had to reach out to bring all of the pieces together.
"We've had good support from the Crawfordsville community with the women's roles, a portion of the costumes, and set furniture," she said. "Special thanks to Cato's, Top Line Athletics, and Cornett's Comfort Gallery."
The compact, but brilliant set and amazing musical compilation were driven by Morton, Stage Manager Clay Zook, and Sound Designer Spencer Elliott.
Most Eligible Bachelor will run through Saturday at 8 p.m. in the Experimental Theater. Admission is free, but tickets should be reserved in the box office. The play includes some adult language and subject matter.
The cast includes:
Chenel Darby as Theresa
Mackenzie Hepburn as Christy
Ronald King as Adrian
Nate Powell as Juan
Kendrick Tucker as Ulysses
Greg Huey as Darius
Jake Sauer as Disheveled Man/Warren
Daniel Masterson as Charles
Written by Amina S. McIntyre
Directed by Anthony Morton
Stage Management by Clay Zook
Sound Design by Spencer Elliott