Wabash Alums Excited About Program
by Howard W. Hewitt • December 22, 2008

Share:
Wabash graduates who have found successful careers in business and leaders of current business-related programs are praising the new Wabash Business Leadership Program.
President Patrick White announced a $375,000 Lilly Endowment Inc. grant on December 9, which will create the Business Leadership Program. The Lilly grant will be matched with $1.52 million in institutional funds to develop the program over a five-year period. Lu Hamilton, who has worked with the marketing and business immersion programs, will be working to assure the program's success.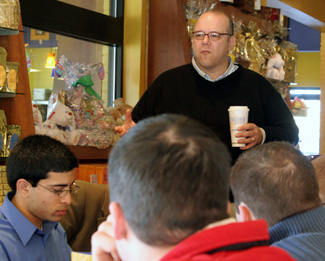 Many alumni have been active in business development activities at Wabash and several were important in helping the College develop the new program. They are now praising the next step.
"I felt a leadership/business program would be a great complement to the liberal arts education," said Brian Clem '04. "I believe a liberal arts education is the best background to bring into business. The education I received at Wabash enabled me to think critically and holistically about the problems I encountered in the business world in a way that a more narrowly-focused education would not have allowed. However, it was as a recruiter back on campus that I really started feeling the need for such a program."
The program could help address the wants and needs of many young men who apply for Wabash admission.
The program will combine courses currently in the business sequence with many other business-related programs and activities already in place.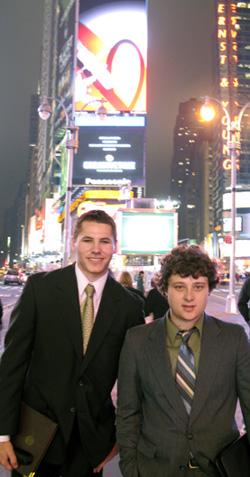 "When I think about combining a normal Wabash education with a Wabash business education, I can only imagine the leaders that will be produced and what the future holds," said Roland Morin '91, who runs his own marketing business and teaches the spring marketing immersion class. "Wabash has a unique opportunity to position itself as a training ground for the next generation of business leaders and entrepreneurs.
"The BLP will allow Wabash another unique selling point to attract young men who want to be prepared to compete in the marketplace against graduates from formal business schools."
Clem, who works for Eli Lilly and Co. and is currently on leave working on his MBA at Stanford, said it's the job search environment where the BLP will make a difference. "While Wabash students certainly have the analytical skills companies are looking for, some did not do as well in interviews because they lacked the business acumen of their peers. In some cases, Wabash students were at a disadvantage in the interview process simply because recruiters wanted to see a certain amount of 'business' education on applicants' resumes. I think the BLP will help polish off what is a great preparation for a career in business, and help market the students for jobs in the business world."
The unique combination of tradition classroom learning, internships, externships, and business programs is what will make the Wabash experience unique.
"This new program's combination of classes and co-curricular activities, such as immersions and internships, will allow students to learn to apply what's in the classroom to messy, real-world situations, just like the ones they will encounter in their careers," said Kathy Wise, who leads the eight-week summer business immersion program.
Morin has two years of experience leading students through the marketing immersion week and always comes away impressed. "The students come prepared, ask hard questions, and make connections between real life situations and marketing paradigms that take people who work in the business years to learn.
"The mix of classroom education, seminars, immersion programs, externships, internships, presentation skills and alumni interaction clearly demonstrates the BLP students will leave Wabash with a depth of understanding of 'real world' business experience that few programs, anywhere, can match."
In photos: Top right, Morin leading a marketing immersion class through a discussion at a downtown South Bend business. Lower left, Steve Zajac '10 and Patrick McAlister '10 stop off in Times Square during an externship visit to New York City.