Stark to Conduct Indianapolis Symphony Orchestra
by Steve Charles • December 17, 2008

Share: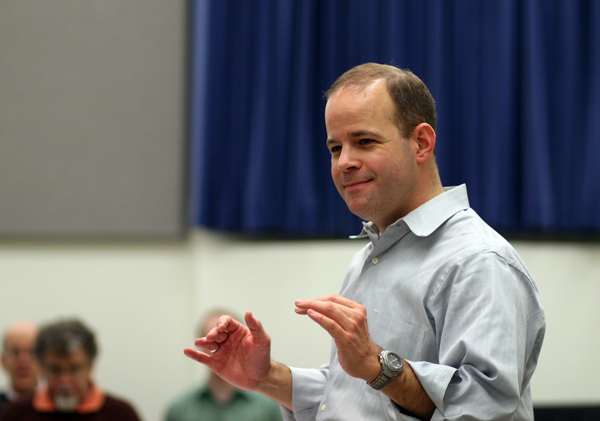 Minutes before rehearsal and less than a week from his debut conducting the Indianapolis Symphony Orchestra, Indianapolis Symphonic Choir Director Eric Stark '88 hugs one of his singers in the hallway of Butler University's Lilly Hall. He thanks her for driving on this ice-covered December evening that has kept much of the city at home.
He introduces me to Brad and Carol Arthur, who have been singing in this choir for 42 years.
"We started singing together and dating 48 years ago this Christmas," Carole says, recalling her college days. "We were just talking on the way over here through the snow, saying, 'Christmas is the coolest time to start dating." They laugh so easily that they seem younger than the college students around us.
"Their dedication is amazing," Stark says of his ensemble of volunteer singers which he has directed now for seven years in addition to teaching as associate professor of music at Butler. "I'll beat them up every night as we get close to a performance and the closer it gets, the harder they work, and the more excited they get. They're a really fine group of singers."
Imagine yourself in a roomful of more than 120 adults who truly love what they're doing, all singing under the direction of a man who may love that work even more. You can feel your clothes vibrating as these sopranos, altos, tenors, and basses warm up.
In two days they'll rehearse with the symphony, and in four they'll present Handel's "Messiah" alongside the ISO to a full house at Clowes Hall. Stark will conduct both ensembles.
Being chosen to conduct the ISO is an uncommon honor for a choral conductor.
"Sometimes they hire a choral conductor to come in and conduct a piece, but it's kind of rare," Stark says. "In Indianapolis it hasn't happened, to my knowledge, in 25 or 30 years.
He says he's a little nervous, but mostly just grateful for the opportunity.
"There's no guarantee that something like this will ever happen for a conductor," Stark says. "I'm very honored to be doing this and quite aware of the great tradition of this ensemble and the great dedication and musicianship that the players represent. That I get to interact with them as a colleague is really humbling."
Stark, a licensed pilot, says that conducting is a little bit like flying an airplane.
Both require "a degree of multi-tasking that suits my ADD-sort of disposition," he says. "[Former Chicago Symphony Conductor] Sir George Solti once said, 'Beware the conductor who is too much in the music. ' You have to be in the music and out of the music at all times."
Which means paying attention simultaneously to that music and the high caliber musicians playing it.
"You're listening to all these things at once, always ready to bring your ear to grab the thing that's not doing what it should be, then stretching your attention to that. It's a lot of fun."
The same is true for pilots, says Stark, who volunteers for Angel Flight, a non-profit that provides free air transportation for those with medical needs.
"When you're doing instrument flying you're watching six different gauges at once. It's like herding cats— one of them will go south while you're fixated on the other one. My instructor says he has taught a couple other musicians, and he says this need to monitor all these different parameters translates well into the cockpit."
Preparing to reach a new musical plane with his ISO conducting debut, Stark reflects on his Wabash Glee Club days, where all this got started.
"Stan Malinowski was Glee Club director, and he heard me practicing some piano in the Chapel," Stark remembers. "He said, 'Hey, I need an accompanist for this piece; Can you help us out?"
"'I'd never accompanied a choir before, and I'm not a great pianist, at all. But he gave me a small piece and I practiced my brains out on it and accompanied the Glee Club on a few things at the end of my freshman year. It made my mom so nervous that she threatened to come to concerts with a bag over her head. And every Glee Club concert starts with "Old Wabash," the hardest handful of notes you could imagine playing."
"I'd be so nervous I couldn't eat before concerts. But it was fun because it showed me life on the other side of the choir riser. Stan gave me some conducting lessons, and then I spent my whole junior year in Vienna and Madrid. In Vienna my piano teacher Gerald Stofsky told me that I would never be a professional pianist—I had started too late. Still, he said, 'You're very musical. You should consider being a conductor.' He was the first person who gave me permission to have that dream.
"These days, my own students study with him there. He was kind of a terrorist in the classroom, but he was a great musician and he nurtured that in me."

Making one's ISO debut playing one of the best known pieces of music in the world brings it's challenges.
"What do you do with a chestnut? You can go only so far before it's no longer the familiar warm blanket that everyone wants to hear," Stark says. "If I were conducting "Messiah" every year I would make some changes, because "Messiah" exists in many different variations. I think it would be interesting to alternate some of those lesser-known versions. It really flies in the face of the notion that classical music is a static thing that doesn't evolve or change. Handel conducted this piece himself over 20 times, and it's possible that it was never the same way twice."
Stark says his job on Saturday is "to nudge the piece in a particular direction. What I am really interested in is the shaping of the event of the piece from beginning to end. There's an art there. That's one thing I feel pretty comfortable with—to take a piece that's two and a-half hours long and lead it so that there's a flow, a direction, a journey.
"I have conducted a complete "Messiah" before, and what was so gratifying was how captivated the audience said they were with the interpretation. People couldn't believe how moved they were by the music. And that's not me; that's Handel. You set the table, and you hope that the muse will visit you."

In photo: Eric Stark rehearses the Indianapolis Symphonic Choir in Lilly Hall, Butler University. 
Photo by Steve Charles