Phillips Reprises SantaLand Diaries Tonight
• December 3, 2008

Share:
Theater Professor James Phillips will take to the stage again this year in a reprise of his one-man show The SantaLand Diaries. Phillips will perform the hilarious take on the holidays Wednesday through Friday, December 10-12 at 8:00 p.m. in the Experimental Theater.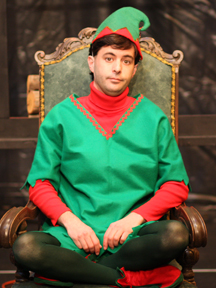 "I decided to do Santaland last year as a challenge for myself as an actor," said Phillips. "It had been a couple of years since I had done any scripted work and I had never tried a one-man show before. As an artist I think it's important to take risks and do things where you might fail."
Failure was never in the cards for author and commentator David Sedaris, who in 1992 as an unknown writer read his short story, The SantaLand Diaries, on National Public Radio's Morning Edition.
The mostly true tale of his adventures as Crumpet, a Macy's holiday Elf, was an instant success and made Sedaris a sought-after talent. Sedaris' original reading is still one of the most popular links on NPR's website.
"Sedaris has a wicked sense of humor that spares no one," said Phillips. "He attacks the entire notion of our commercialized Christmas season. Having the freedom to mock people and traditions held dear to most people makes the show great fun for me."
In 1996, Joe Mantello adapted the short story into monologue form. The play found immediate success and is now a staple of regional and community theatres. Phillips brought the laugh-until-you-cry hit to Wabash a year ago.
Tickets are free to the public, but reservations are encouraged due to limited seating. Contact the box office by email or phone (361-6411) to reserve your seats. A reminder, too, that The SantaLand Diaries has adult content and is not suitable for children.
Phillips enjoys the opportunity to do the one-man show, but says the character can at times be a little odd. "It's always interesting to go back to class the day after your students have seen you dressed as an elf," adds Phillips.