Bird '00 to Speak Tonight on Obama Campaign
by Howard W. Hewitt • November 26, 2008

Share:
A key Barack Obama political organizer will be on campus Tuesday to talk about his role in the President-Elect's campaign. Jeremy Bird '00 served as a key organizer in South Carolina, Pennsylvania, and Ohio for the Illinois Senator.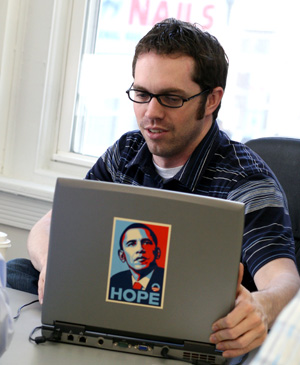 Bird will speak at 7:30 p.m. Tuesday, in the Korb Classroom, in the Fine Arts Building. He will also participate in other sessions during the day.
Bird '00 was the field organizer for Obama's South Carolina primary campaign. Obama won the state by a far larger margin than political pundits and polls had predicted. His win in the southern state has been largely credited as one of the key turning points in his primary battle with Sen. Hillary Clinton.
The Wabash religion major was credited with innovative approaches to organizing there and during his assignment as Ohio General Election Chairman.
Jon Carson, Obama's national field director for the general election, called Bird one of the top field people in the country. "The work he did in South Carolina, Maryland, Pennsylvania, and in Ohio (for the general election) was a major factor in the Obama campaign's success," Carson said. "Jeremy is a great leader who inspires the people that work for him, and he has been the most important innovator of all the people in our field program."
Bird attended Harvard Divinity School after graduation and got involved as well at the Kennedy School of Government. Bird worked for Wake Up Walmart, the Howard Dean campaign, Democratic National Committee, and the John Kerry campaign before joining the Obama staff early in 2007.
The next issue of Wabash Magazine, due out in the next two weeks, will feature a full feature on Bird.
Bird's evening talk is being sponsored by the Wabash College Political Science Department and the student newspaper, The Bachelor.