Wabash, Wheaton Finally Clash When It Counts
by Howard W. Hewitt • November 26, 2008

Share:
Wabash College's Little Giants (10-1) and the Wheaton Thunder (9-2) are not unfamiliar opponents though they haven't played a meaningful down since 2001.
The two teams have engaged in a preseason scrimmage the past several years but those are hardly the measure of a team. Wheaton won the last real matchup in 2001, 58-33, and have 7-4 all-time advantage.
"There are some basic things you learn from scrimmaging a team at the start of the season, but you are so focused on watching your personnel that you don't really concern yourself with what your opponent is doing like you would in a regular game," head coach Erik Raeburn said. "We have four game films from Wheaton and they have four films of us. I think you get a better sense of what they will try to do from that than from anything in the scrimmage 12 weeks ago."
Saturday's second round NCAA Div. III playoff game should be an evenly matched contest if you look at the statistics. The 15th-ranked Little Giants and 25th ranked Thunder have similar numbers when you look at what they've done over the course of the 2008 season.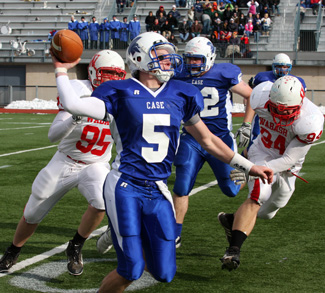 Wheaton averages 34 points a game on a 411-yard total offense average. Wabash puts up 40 points a contest on 452 yards. The teams also seem to have similar balance. The Thunder offense picks up an average of 245 passing yards to 165 on the ground while the Little Giants get 267 through the air and 185 rushing.
"Red zone scoring has been one of our strengths this season," Raeburn said. "More times than not we've punched it in for a touchdown. We had opportunities in the first half against Case and at various times during the DePauw game and didn't capitalize. Some of the credit or blame goes to the Case and DePauw defenses, but some also goes to our overall execution. You have to take advantage of scoring opportunities in the playoffs if you want to advance."
Both teams feature dangerous kick return specialists. Wabash's Wes Chamblee has been near 30 yards a kick return all season. Last week Case Western kicked away from Chamblee on every kick. The Thunder have an All-American returner and defensive back in Pete Ittersagen. Ittersagen averages over 18 yards per punt return and has a career 13 interceptions.
Rocky Gingg, a 205-pound sophomore, led the College Conference of Illinois and Wisconsin in rushing with 1,034 yards or 94 a game. He also has scored 12 touchdowns.
Wabash has rushed the ball by committee. Evan Sobecki carried much of the load last week for the Little Giants. Derrick Yoder gave Sobecki spot relief. Senior speedster Bobby Kimp was out with a minor injury but is expected back for the Thunder.
Junior quarterback Sean Norris completes 56 percent of his passes while Wabash's Matt Hudson has been successful on nearly 66 percent of his attempts. Hudson was named the North Coast Athletic Conference offensive player of the year this week.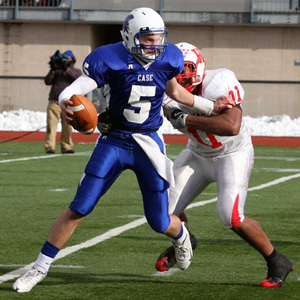 Both teams are coming off stout defensive performances. The Thunder shutout Trine while recording six quarterback sacks. Wabash sacked Case Western Quarterback Dan Whalen five times and had him under constant pressure.
Defensive linemen Darryl Kennon and Jared Lange provided most of that pressure. Both were named first-team All-NCAC this week. Kennon was selected the conference's Defensive Player of the Year.
"This football team has really taken the motto 'Wabash Always Fights' to heart," the first year Wabash coach said. "You can't win a game like Saturday at Case if you don't believe you have the ability and the talent to win. We've had plenty of examples this season, but none more dramatic than Saturday. When Case scored with less than two minutes left, our guys never gave up.
I'm thrilled to be a part of a team that takes that saying to heart."
Tickets for the second round contest between the Little Giants and the Thunder are $8 for adults and $4 for students and children. There will be no presale of tickets at Wabash or Wheaton. Tickets will go on sale at 10 a.m. Saturday at Hollett Little Giant Stadium. Gates will open at the same time. Student IDs and Wabash "W" passes are not valid for admission to NCAA playoff and tournament events and will not be honored for Saturday's game.
Those unable to attend the game can listen on 91.3 FM WNDY beginning at 11:45 a.m. with the pregame show. The game will also be available on the Wabash audio server and on Teamline. Wheaton's WETN will also carry the game for fans in the Chicago area.
There will be no television or internet video coverage of the game.

The Thunder's two losses came late in the season. They lost to the Region's top playoff seed North Central, 44-21, and the following week dropped a 37-22 decision at Elmhurst.
The Thunder knocked off previously unbeaten Trine last week, 14-0, while Wabash ended Case Western Reserve's perfect season 20-17.
In photos: Top left, the Wabash defense had Case quarterback Dan Whalen on the run all day. Bottom right, NCAC defensive player of the year Darryl Kennon was a terror in the backfield.