Smith Erupts For 41 in Wabash Win
by Brent Harris • November 25, 2008

Share:
Sophomore guard Wes Smith blistered the nets of Chadwick Court Tuesday night for a career-high 41 points to lead Wabash to an 89-63 drubbing of Hanover.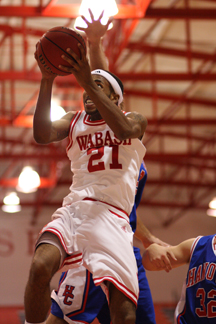 The 41-point effort tied Jack Roudebush's total against DePauw in 1973 for eighth on the Wabash single-game scoring list. The last time a Wabash player topped the 40-point mark came in the 1999-2000 season when Josh Estelle scored 40 against Wooster. Estelle also scored 40 points that year against Hanover in an 83-80 double-overtime loss to the Panthers. (View photos from the game here.)
Smith overcame a slow start, missing his first two shots in the opening period before scoring on a layup six minutes into the contest. He went on to hit 14-of-24 attempts and 13-of-14 free throws.
Hanover had the hot hand early, taking an 11-4 lead before Smith's layup ignited the Wabash offense. The Little Giants continued to trail by as many as six points with seven minutes left in the opening period before starting a run.
Smith hit two free throws, followed by a Ben Burkett putback basket after Smith missed a shot from the right side. Andrew Gilman answered a Taylor Dial three to keep the Hanover lead at 32-31. Burkett scored again, giving the Little Giants their first lead since Chase Haltom's basket to start the game put Wabash up 2-0. A late three-pointer by Dominique Thomas gave Wabash a four-point halftime edge.
After scoring 17 points in the opening period, Smith poured it on in the final 20 minutes. The Lawrence North High School graduate was 9-for-12 from the field and a perfect 6-for-6 for a total of 24 points in the final half. He scored 10 of the first 16 points for the Little Giants to help Wabash to a 12-point lead five minutes into the second half.
Smith wasn't the only Little Giant player doing damage to the Panthers. Junior Aaron Brock joined Smith in double figures, scoring 17 points in only 21 minutes of action. Brock hit two three-pointers --- sandwiching six more points points for Smith in a two-minute period --- for a 53-41 edge for the Little Giants in the final period.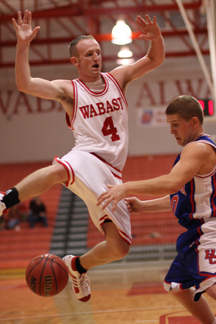 The Wabash defense kept Hanover at bay, holding the Panthers scoreless for the next two minutes before eventually cutting the Little Giants' lead to nine points. Hanover would get no closer, however, when Wabash finished the game with a 22-5 run. Smith had eight points down the stretch before leaving the game with 2:14 remaining in the contest. Brock tallied six points in the final minutes, as well.

The victory snapped a seven-game winning streak by the Panthers against Wabash. The last Little Giant win came in the first round of the 1999 Heartland Collegiate Athletic Conference Tournament when Wabash claimed a 74-65 win at Hanover on February 23, 1999.

Smith added eight rebounds, two assists, two steals, and two blocked shots to his efforts Tuesday night. Senior Brian Maloney had 11 rebounds and seven points. Brock grabbed six boards. Mitchell Meyer scored 13 points to pace Hanover (1-2), while Miek Case had 10 off the bench.

The Little Giants finished 30-of-65 from the field for 46 percent while holding Hanover to 22-of-67 for 32.8 percent. Wabash handed out 13 assists, led by Haltom and Gilman with three each.

Wabash (2-1) returns to action December 2 at DePauw. Wabash defeated its arch-rival 57-52 in the consolation game of the Little Giant Tipoff Tournament Saturday.

Photos - (top right) Wes Smith drives to the basket for two of his 41 points against Hanover.

(Bottom left) Chase Haltom forces one of nine steals by the Wabash defense.




Results: Wabash 89, Hanover 63 Game Stats