Hudson, Kennon Named NCAC Players of the Year
by Brent Harris • November 24, 2008

Share:
Junior quarterback Matt Hudson and senior defensive lineman Darryl Kennon have been named the 2008 North Coast Athletic Conference Football Players of the Year. Hudson was named the Mike Gregory Award-winner as the Offensive Player of the Year, while Kennon received the Hank Critchfield Award as the Defensive Player of the Year.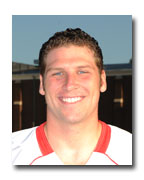 Hudson (left) leads the NCAC in passing yards and TDs, throwing for 2,905 yards and 26 scores in 11 games to this point in the season. He is at the top of the league's list for total offense yards (2,9441) and completions 205, as well. Hudson ranks 11th in the nation in passing efficiency (169.96 rating) and is 27th in total offense (267.36 ypg).
"Matt is very unselfish at quarterback," head coach Erik Raeburn said. "A lot of quarterbacks want to make the big throw or put up phenomenal numbers to show what they can do. Many times that leads to a lot of turnovers. Matt does what's best for the team, whether it's throwing the short pass for a completion instead of trying to throw the bomb for a touchdown, or working the running game to help the team win. That's what a great quarterback does and I think that's why the other conference coaches recognized his efforts this season with this award."
Hudson is the fourth Wabash player to receive the Gregory Award, joining Jake Knott (2001, 2002) and Russ Harbaugh (2005). The Award is presented by Mr. Richard Gregory in honor of his father, a multi-sport standout at Denison in the 1920's.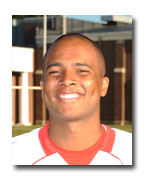 Kennon (right) has 37 tackles, including 19 solo stops, heading into this weekend's second round game of the 2008 NCAA Football Playoffs against Wheaton College. The senior defensive tackle set the Wabash career sacks mark with 30, including six this year to place fourth among the league's defensive players. He is second in the NCAC in tackles for losses with 13, trailing only teammate Jared Lange with 15. Kennon has helped the Little Giant defense to a number-13 ranking in the nation in total defense (253.09 ypg) and 19th in scoring defense (14.55 ppg).

"Darryl, by the nature of his position, was never going to post huge tackle numbers," Raeburn said. "He's just so disruptive on the defensive side of the ball. He constantly puts pressure on the running back or quarterback and really forces teams to think about how to keep him out of the play. He's the type of player that makes opposing coaches plan and scheme about how to block him on every single play."

Kennon joins his position coach, Adi Pynenberg, as a Critchfield Award recipient. Pynenberg won the Award in 2006 and 2007. Blair Hammer received the Award in 2002, while Nate Boulais was a 2001 recipient. The Award honors the 1927 College of Wooster graduate and is presented each year by Mr. Ernie Infield of Wooster, Ohio.

Hudson and Kennon also received First Team All-NCAC Football honors.




For more information see: