Linguistic Expert Dan Everett To Lecture
by Karen Handley • November 14, 2008

Share: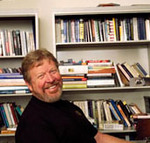 Wabash College Lecture Series will host Dan Everett who will give a talk at 7 p.m., Thursday, November 20, in Baxter Hall, room 101. The title of his talk is "Arrows, Pizza, and Language: Grammar as a Cultural Tool."
Everett is chair of the Department of Languages, Literatures, and Cultures, and Professor of Anthropology and Linguistics at Illinois State University. He is also Honorary Professor of Linguistics at the School of Languages, Linguistics, and Cultures at University of Manchester in Manchester, UK. Everett is best known for his study of the Amazon Basins Pirah" people and their language and is the author of his recently published book, Don't Sleep, There are Snakes: A Life in the Amazon.
His talk is free and open to the public.