Widdows Named Schroeder Chair
by Jim Amidon • November 12, 2008

Share:
Wabash College President Patrick E. White and Dean of the College Gary A. Phillips have announced the creation of an endowed professorship, the John H. Schroeder Interdisciplinary Chair in Economics. The faculty chair honors Mr. Schroeder's lifetime commitment to his community and Wabash College, and is endowed by a gift from his son, John C. Schroeder '69 and his wife, Diane.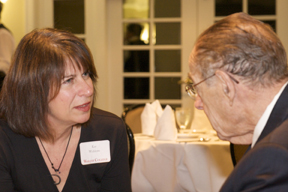 The first holder of the John H. Schroeder Interdisciplinary Chair in Economics is Kealoha "Kay" Widdows (pictured right with Mr. Schroeder). 
"John is a community leader, business leader, entrepreneur, and Wabash man who lives our mission of thinking critically, acting responsibly, leading effectively, and living humanely," said Wabash President Pat White. "I am pleased that Kay Widdows is the first Schroeder chair. She exhibits in her teaching the same entrepreneurial spirit we see in John."
The announcement was held at a special dinner of Evansville-area alumni and friends of the College, at which Mr. Schroeder was honored.
"Kay Widdows exemplifies the cross-disciplinary, global reach of the liberal arts and, increasingly, the field of economics," said Dean Phillips. "A world traveler and scholar who has lived in Taiwan, Japan, and Malaysia, a staunch supporter of and participant in the Wabash Summer Ecuador program, and faculty leader in the College's new East Asian Studies initiative, Kay's interdisciplinary teaching, scholarship, and service exemplify the core values of the College's mission and embody the spirit of the endowed chair."
Widdows joined the Wabash faculty in 1987 after earning her bachelor's degree from Reed College, her master's degree from the University of Chicago, and her Ph.D. from Purdue University.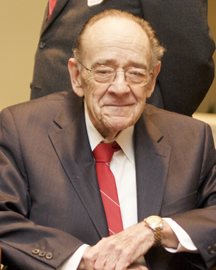 John H. Schroeder '42 (left) is a beloved Evansville civic leader, successful businessman, and longtime trustee and benefactor of Wabash College. Mr. Schroeder served as an active trustee from 1982 through 1994, and has served as an emeritus trustee since. After graduating from Wabash as an economics major, Mr. Schroeder earned his MBA with honors from Harvard University. He built his Evansville-based company — Crescent-Cresline Wabash Plastics — into one of the world's largest plastic pipe producers. He remains Chairman of the company, which includes Wabash Plastics, Crescent Plastics, Inc., and Cresline Plastic Pipe, Inc.
"This endowed chair permanently honors Mr. Schroeder's many personal and professional achievements by underscoring the value of global citizenship and leadership, and reflects the importance of the liberal arts as an interdisciplinary engagement with the world of economics, business, and beyond," added Dean Phillips.
The Schroeder Chair will provide Professor Widdows with a reduced teaching load along with program support that will enable her to expand the Economics Department curriculum with new interdisciplinary courses with international focus and to involve students directly in her scholarship.
"The Economics Department is deeply grateful to Schroeder family for their loyalty and generosity, and I am personally very honored to be the first holder of the John H. Schroeder Interdisciplinary Chair in Economics," said Professor Widdows. "But I am also mindful that interdisciplinary work is by its very nature collaborative, and I would like to acknowledge my wonderful colleagues who have worked with me in the past and with whom I look forward to working in the future as we develop new interdisciplinary paths and strategies to broaden the education of Wabash students."
Widdows has been a truly international and interdisciplinary teacher throughout her career. She has taught economics and statistics in Shah Alam, Malaysia, at the Institut Teknologi MARA in Malaysia, in the international business school at National Chengchi University in Taipei, and at Waseda University in Japan.
An expert in consumer economics issues in Southeast Asia, China, and Japan, Widdows regularly travels to Asia, where she helped establish the Asian Consumer and Family Economics Association. She has worked with other Wabash faculty to develop the College's Ecuadorian Studies Program, which is based in Quito, Ecuador, and is quintessentially interdisciplinary in focus and practice.
Professor Widdows has also led Immersion Learning trips — with Political Science Professor Melissa Butler — to Belgium and France in a recurring course that studies the economic and political impact of the European Union, which has become a benchmark interdisciplinary immersion course at Wabash.
Professor Widdows has served as Chair of the Economics Department, served on the selection committee for Wabash President Patrick White, and has even been a judge in the Moot Court Competition. She helped developed and previously taught in Wabash's Summer Business Immersion Program.
The College is immensely grateful to John H. Schroeder for his many contributions to Wabash, to the Schroeder family for this significant gift, and to Kay for accepting this new leadership role at Wabash," concluded Dean Phillips. "The John H. Schroeder Interdisciplinary Chair in Economics will help lead the College's effort to implement its strategic vision to educate Wabash men for a life lived in a global setting with global responsibilities."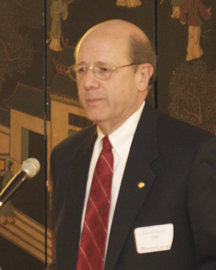 "I am working on developing a course on the Economics of the Arts that I taught last semester on the Semester at Sea program, and in helping to put together an Asian Studies concentration which will leverage the relationship Wabash is developing with Fudan University in Shanghai," said Widdows of her plans for the future.
John C. Schroeder (right) and his wife, Diane, made the gift to Wabash to establish the professorship. The younger Schroeder is a 1969 Wabash graduate and later earned his MBA from Indiana University. He is the President and CEO of Wabash Plastics, Inc., and serves on a number of boards in Evansville, including Old National Bank, the University of Evansville, and the Evansville Regional Business Committee.
"It was a great honor to meet and spend time with John H. Schroeder, in whose honor the chair was given," added Widdows. "I found him to be a wise and gracious man, as is his son, John C. Schroeder, and I am grateful for their generosity."