Wabash Men and Medicine in the 21st Century
by Kim Johnson • November 12, 2008

Share:
Alumni, staff, faculty, and students gathered on Saturday for more than just a chance at the Bell.
Prior to the classic Monon Bell rivalry, 20 alumni, 15 faculty and staff, and 40 pre-medical students had the opportunity to learn about the medical profession in the 21st Century. The event included a panel discussion featuring physicians Todd Rowland '85, Tom Koenig '85, and Phil Dulberger '85. Scott Himsel '85 served as the moderator. After the panel discussion there was a networking event and tailgate followed by the Bell game. (Click here to see photos from the presentations.)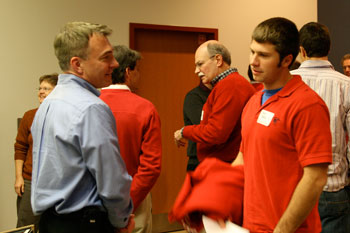 "This event evolved from a discussion by the presenters. They wanted to be able to do something meaningful for the College and its current students," said Jill Rogers, Pre-Health Advisor at Wabash. "The three physicians will talk about how their traditional roles as physicians have evolved into new areas in medicine. But their primary interest in returning to campus and bringing physicians together is to network with the students and to help them understand what the medical profession looks like today."
Dr. Dulberger is an anesthesiologist in Indianapolis and has recently taken on additional administrative roles including serving as the Executive Director of Clarian Quality Partners. Dr. Koenig is the Associate Dean for Student Affairs, and Assistant Professor of Psychiatry and Behavioral Sciences at The Johns Hopkins School of Medicine. Dr. Rowland is the Director of Medical Informatics for Bloomington Hospital. He has hosted pre-medical student interns from Wabash for the last three summers.
"Always stop and recognize your surroundings. Don't forget the impact Wabash has," Dulberger told the crowd. "This is truly a remarkable institution - one where you get to 'hang out' with your professors and get to know them. You don't see that in many other places."
The alumni who returned for the event included a wide range of medical experience and specialties from Jason Siegel '08, a first-year medical student, to John Poncher '52, a retired pediatrician. Alumni came from as close as Crawfordsville - Johns Roberts '83, and Scott Douglas '84 – and as far away as Harvard – Frank Sellke '78.
"The allegiance these alumni have for Wabash is amazing," Rogers said. "They have a strong desire to mentor students. Sometimes I wonder if the students realize how lucky they are."
Photo above: Dr. Philip Dulberger '85 talks with Jake Ezell '11 after the presentations.