Little Giants Hold For Midweek Tie
by Brent Harris • October 29, 2008

Share:
Two late chances by Wabash in Wednesday night's second overtime came up empty in the Little Giants' match against Earlham. The two teams finished with a 2-2 tie in North Coast Athletic Conference action at Mud Hollow Field.
See and download high resolution pictures by clicking here.
After a sluggish first overtime period which saw neither team mount a serious scoring threat, Wabash fired two attempts in the last 30 seconds of the last extra period in an attempt to take the victory. Freshman Austin Jennings, whose seventh goal of the season put Wabash up 1-0 in the 21st minute of the match, blasted a shot that Earlham goalkeeper Jonah Kreniske turned aside. Mark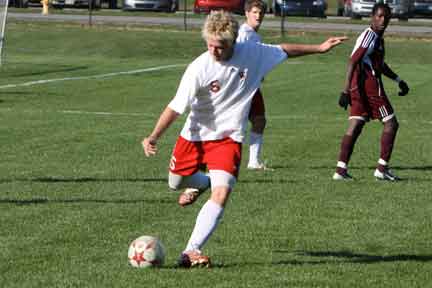 Babcock, the North Coast Athletic Conference Men's Soccer Player of the Week for his game-winning goal eight days earlier against Franklin, tried to add another game-winner just before the final horn on a header. Kreniske kept that shot out of the net, as well, for one of his five saves in the match.
Jennings picked up his goal on a header off a centering pass by Allan Swan just moments after Wabash had missed a similar opportunity in front in the net. The Quakers responded with their first goal in the 43rd minute off a shot by Nick Costello after a pass from Mamary Diarra.
Wabash took a 2-1 lead early in the second half when Jennings snagged a loose ball in front of the net and fired home his team-leading eighth goal and second multi-goal game of the year. Diarra answered 10 minutes later with a goal of his own after a header was flicked back in the box by teammate Victor Anciano.
"The two goals we scored were really very beautiful," Wabash head coach Roberto Giannini said. "We just couldn't finish in the end. We had a couple of chances in the final minute, but Earlham's goalkeeper made two great saves.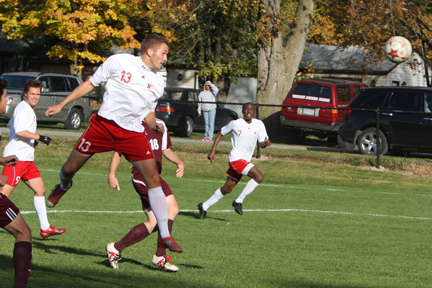 "We played very well. We were very aggressive, yet still stayed composed. We really played good soccer, playing to feet, and crossed the ball over and over again. We gave away a couple of soft goals against a very solid team in Earlham."

Jennings had six shots and three shots on goal to lead the Little Giants. Freshman Femi Oluyedun added three shots. Swan had a shot on goal, as did Ian Kelly.

Freshman goaltender Phil Rosborough had four saves while facing a total 18 shots by Earlham (10-7-1, 2-5-1 NCAC). Wabash took 14 total shots in the match.

The Little Giants (5-9-4, 0-7-1 NCAC) close out the 2008 season Saturday with an 11 a.m. home match against Oberlin College. Seniors Devin Moss, Thomas Hanewald, and Michael Kaster will be honored prior to the start of the match.

Photos - (top right) Allan Swan's cross set up a perfect header by Austin Jennings for the first goal of the match.

(Bottom left) Jennings watches the ball sail into the net for his seventh goal of the year. The freshman added another goal in the second period to help Wabash to a 2-2 tie against Earlham.




Results: Wabash 2, Earlham 2 Game Stats