Wabash Battles to 1-0 Win
by Brent Harris • October 21, 2008

Share: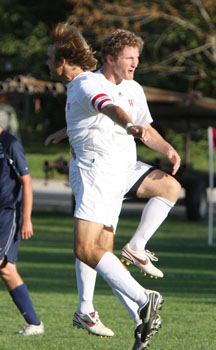 A perfect pass from Diego Aliaga to Mark Babcock led to the only goal in a hard-fought 1-0 win by Wabash over Franklin in men's soccer Tuesday afternoon at Mud Hollow Field.
See pictures from the match here.
Aliaga dribbled down the left side of the Franklin defense in the waning moments of the match. After beating one Grizzlies defender, he launched a pass to Babcock in the center of the field. The sophomore defender turned and fired a shot past goalkeeper Matt Foreman with less than eight minutes remaining in the match to put the Little Giants in front.
Freshman goalkeeper Phil Rosborough did the rest, earning his first career victory with two saves in the shutout effort.
"I was very impressed with the way we kept our composure," head coach Roberto Giannini said. "Even when we were not able to score right away, we didn't get frustrated. We kept working and working, and eventually we did score."
Wabash provided offensive pressure all match long, outshooting the Grizzlies 22-4 with nine shots on goal to just two for Franklin.
"It's a good win," Giannini added. "Not just because we won, but because of the way we won. We played good soccer, we continued to do things the way we have been trained, and believing in what we were doing. Eventually it paid off with a goal."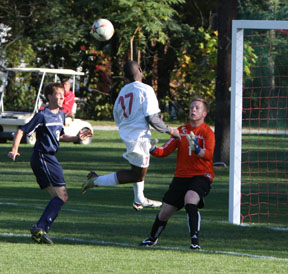 Freshman Austin Jennings led the Little Giants with five shots and three on net. Ian Kelly, Dylan Andrew, Femi Oluyedun, Drew Kapsalis, and Aliaga also had shots on goal.

Wabash (5-8-3) travels to Ohio Wesleyan Saturday night for a North Coast Athletic Conference match.

Photo - (top right) Mark Babcock and Andrew Pearcy celebrate the game-winning goal.

(Bottom left) Femi Oluyedun fires a header toward the goal.




Results: Wabash 1, Franklin 0 Game Stats