Whitehead's Kick Completes Comeback
by Howard Hewitt • October 18, 2008

Share:
SPRINGFIELD, Oh. –Spencer Whitehead couldn't have hit it much better.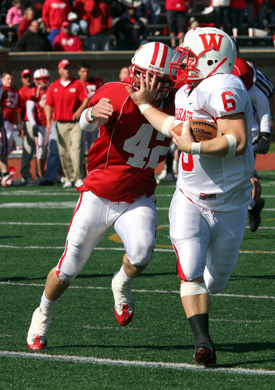 The sophomore placekicker hammered a 41-yard field goal with plenty to spare with just 4 seconds remaining to give Wabash an improbable win here over its primary NCAC rival Wittenberg, 13-10. (View photos from the game here, here, here, and here.)
It was the only lead of the game for the Little Giants (6-0, 4-0 NCAC) in a game dominated by its defense while the high-powered offense sputtered. Wabash scored 10 points in the final 4:30 to earn its sixth straight win. Wabash fumbled the ball twice, had three interceptions and more than 100 yards in penalties.
The Tigers (4-2, 3-1 NCAC) fumbled the ball three times and missed two field goal attempts.
But after tying the score at 10-all on a Kody LeMond 15-yard catch of a Matt Hudson pass, the stage was set for the kick of Whitehead's young career.
"Actually I wasn't thinking much, they (Wittenberg) were doing enough thinking for me, yelling at me and everything," the Bloomington South graduate said. "Then Chad Peterman (holder) said this is just like practice.
"I really don't remember the snap. I remember seeing Chad get the snap and I just did my job. I felt like it was a pretty clean stroke and I knew (it was good) right away."
Whitehead's heroics were made possible by the Little Giant defense that held time and time again. The key play came with under six minutes remaining and Wittenberg clinging to a 10-3 lead. To that point, Wabash had done little right offensively other than Drew Oehler's 37-yard, second quarter field goal.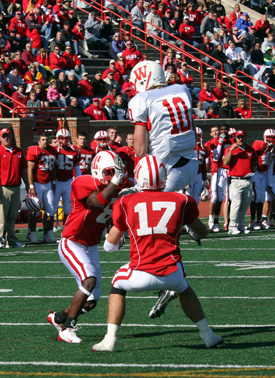 The key play was set up by the defense with just 5:02 left. Jared Lange forced an Andrew Durbin fumble at the 35-yard line that was recovered by junior Bryan Watson.

Hudson connected on a pass to Wes Chamblee for 20 yards before the scoring strike to LeMond, 10-10. The teams traded possessions and Witt had the ball with 2:34 left and a chance to move into field goal range or run the clock down to overtime. But the defense was firm and forced a punt. Wabash took over at its own 46-yard line with just 28 seconds remaining.

Hudson found his favorite target, LeMond, for 35 yards to set the Little Giants up at the 24-yard line. Following an incompletion in the endzone, Whitehead trotted on to the field and boomed the ball through.

"I felt great we made that kick but I felt even better for Spencer," Coach Erik Raeburn said. "He started off the season a little rough but he's done a great job since then."

Wittenberg built a 10-3 lead in the first half on David Rome's 23-yard field goal and Durbin's 19-yard pass to Patrick Williams. They forced turnovers, disrupted the Wabash running game and made it stand until just five minutes remained.

"It's Wabash Always Fights not Wabash sometimes fights," Raeburn said. "Our guys kept saying that. No matter how many mistakes we were making they never gave up and thank goodness we made enough plays to win."

Watson sparked the defense with 11 tackles. Lange, Chris Schweigel, Matt Whyde, and David Mann all added seven apiece. Darryl Kennon kept constant pressure on the pocket with a sack and two tackles for a loss.

"Our defense was fantastic and has been fantastic with the exception of our first game," Raeburn said. "Since that point they have played lights out. They played great again today. We turned the ball over so many times. We kept putting them in bad position and they just rose up the challenge and kept Witt off the scoreboard. They carried us today for sure."

Kennon said the balance is the best part of the Little Giant team. "We don't have just one great part of our team," the defensive lineman said. "We have a great offense and a great defense. We took it upon ourselves to control the game. Just the fact it's Wittenberg is plenty of motivation. I honestly dislike these guys more than DePauw. Fighting them determines our playoff hopes. We knew it was going to be a knock down, drag out battle – definitely a fight to the finish."

The offensive couldn't overcome its own mistakes and get untracked until near the end. Wabash entered the game averaging 46 a contest, tops in Division III football. The Little Giants rushed for just 33 yards after three straight 200-plus yard rushing efforts. Hudson threw for 291 yards but hit on just 24 of 47 passes with three interceptions.

LeMond had 10 catches for 149 yards. His touchdown to tie the game was his 13th TD of the season.

"We didn't run the ball very well, we didn't protect the quarterback very well and we turned the ball over," Raeburn said. "We had a ton of penalties in the first half and we were out of sync. We were fortunate considering the way we played on offense that we were able to get the win."

Story photos by Howard Hewitt

Home page photo by Drew Casey '12

Photos - (Top right) Evan Sobecki ran for 43 yards in the Little Giants' win over Wittenberg.

(Bottom left) Senior tight end Scott Liska makes a leaping catch.

Main page - Sophomore Spencer Whitehead's 41-yard field goal gave Wabash the win.




Results: Wabash 13, Wittenberg 10