Wabash Day 2008 - Evansville
by Tom Liffick '73 • October 15, 2008

Share:
Nine intrepid members of The Evansville Association of Wabash Men helped complete a project that was started last year on WABASH DAY. In 2007 we cleaned up the interior at Holly's House after construction crews gutted the structure in preparation for remodeling.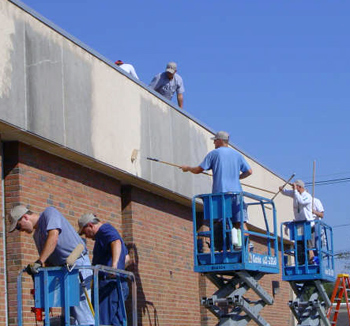 Holly's House opened in September 2008 to serve survivors of domestic or sexual violence. While the interior has been transformed into a warm and comfortable environment, the exterior still looked a little institutional (and shabby) because of the dark grey exterior stone façade. WABASH DAY 2008 to the rescue!
Paul Ferguson, Eric Strehl, Anthony Inzerello, Bob Webster and Thom Liffick all participated in their fourth WABASH DAY accompanied by rookies Ted Grogg, John Musgrave, Tom Bailey and Scott Schroeder.
The stone work on the front and east side of the building was painted with a primer coat and then a finish coat of beige paint that lightened the color of the building substantially, making it much less institutional looking and much more inviting. We were grateful for the brief break afforded by the necessary drying time for the primer coat as it was hot and sunny with temperatures in the mid 80s. Lured by the promise of a free hat and all the water they could drink, the crew of Wabash alums worked hard - and it showed.