David Porter to Give Classics Lecture and Perform as a Visiting Artist
by Karen Handley • October 14, 2008

Share: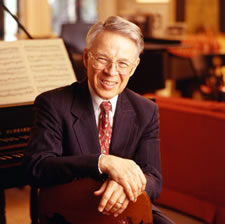 Wabash College invites you to hear Classics scholar and pianist David Porter present a Classics lecture and a rare performance of one of the most challenging works in the piano repertoire. His talk, "On the Divide: Horatian Variations," will take place at 8 p.m., Thursday, October 23, in Lovell Lecture Room (101) in Baxter Hall. He will then perform as part of the Visiting Artist Series when he plays Charles Ives' Concord Sonata at 4 p.m. on Sunday, October 26 in Salter Hall in the Fine Arts Center.
Porter returns to the Wabash College campus after more than 40-years, having performed at the College during the 1960s. Porter is the nephew of the late English Department professor, News Bureau director, and Registrar Robert Harvey.
Porter's lecture will focus on a trajectory that appears, with significant variations, in several collections of Horace's poetry. Horace often begins with poems that suggest the inclination to escape, to withdraw, but by the ends of his collections, he is instead moving towards engagement and even confrontation. Though Porter will focus on Horace's Odes I-III and on Epistles, he will also discuss the tension between escape and engagement in other authors, including Willa Cather.
His Sunday performance, Concord Sonata, is one of the most challenging works in the entire piano repertoire. Equally at home lecturing on Greek tragedy and performing piano masterworks, Porter will begin the lecture-demonstration based on Ives's own Essays Before a Sonata. For nearly 40 years Porter has championed this Ives masterpiece, which at its premiere was hailed by the New York Herald Tribune as "the greatest music composed by an American."
Porter is the Harry C. Payne Visiting Professor of Liberal Arts at Williams College. He received his B.A. from Swarthmore in 1958 and his Ph.D. from Princeton in 1962. During that same period he studied piano with Edward Steuermann in Philadelphia and New York and in 1970 and 1977 he traveled to Amsterdam to study harpsichord with Gustav Leonhardt. Before coming to Williams in 1999, he held a dual appointment in Classics and music at Carelton College and served as president of Carleton from 1986-87 and Skidmore College from 1987-99. In 1994-95 he was a Phi Beta Kappa Visiting Scholar, and for the fall of 2008 he is the Case Visiting Professor of Classics at Indiana University.
Porter is the author of books on Horace and Greek tragedy. He has written numerous articles on topics in classics, music, and 20th century literature. His book, On the Divide: The Many Lives of Willa Cather, was published in 2008 by the University of Nebraska Press and a second book on Cather, co-authored with a colleague at Drew University, is nearing completion.
His lecture is free and open to the public. Seating for Visiting Artists Series events will be by general admission, though free tickets are required. Contact the Fine Arts Center Box Office by email at boxoffice@wabash.edu; or phone: 765-361-6411. Box Office hours are Monday through Friday, 8:30 a.m. to 12 noon and 1:30 to 4 p.m. The box office will open 90 minutes before curtain time for Visiting Artists events. Tickets not claimed at the Box Office 10 minutes prior to curtain will be released to the general public.