Wabash Day 2008 - Pittsburgh
by Eriks Janelsins '02 • October 13, 2008

Share: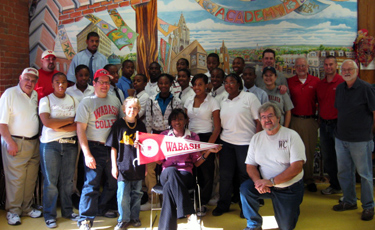 Eight Wabash Alumni, two family members, and seventeen students from The Neighborhood Academy gathered on Saturday (October 11) to learn about one another and complete a service project at the East End Community Thrift Store.
Wabash men first toured The Neighborhood Academy's facilities and shared breakfast with the students. Our enthusiastic group then hiked the block to the East End Community Thrift Store where we were quickly put to work helping organize, clean, sort, stack, hang, shelve, lift, and categorize all of the various items in the two stores.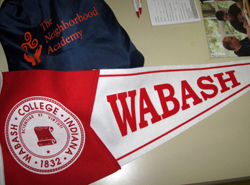 After washing hands, the group enjoyed pizza and sandwiches provided by the Wabash men.

Wabash Alumni and family: Sam McCrimmon '99, (his wife Courtney McCrimmon);Eriks Janelsins '02; Charlie Quillin '60; Doug Burns '61, John Newport '67; Lyndall Huggler '83, (son Jason Huggler); Joe Guthrie '64; Paul Prosinski '07