Wabash Day 2008 - Avon
by Ian Bonhotal '12 • October 13, 2008

Share:
It is evident through the success of Wabash Day that the philanthropic spirit of giving back instilled in every student of the College continues to live on post-graduation. Just outside of Indianapolis in Hendricks County Wabash alums put that spirit to work. Wabash Day is an annual event which brings alumni together in volunteer opportunities within their own communities. See more photos here.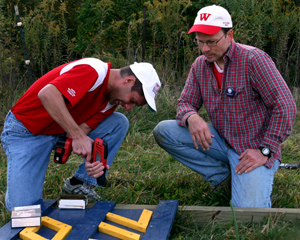 Jim Kerr of the class of '92, Dave Jackson of '87, and Bill Harrington of '85 combined to cooperate with a board in charge of the B&O trail. The B&O is an abandoned railroad line being reclaimed by the community in order to develop a publicly accessible trail. Jim Kerr said that the trail will help to further bring the community together and will create more opportunities for a pleasant, accessible outdoor experience.
The three grads, along with a few men from the board, worked hard weeding, clearing brush, and assembling a sign to identify the site of the future community trail. What is remarkable, though, is the pervasiveness of Wabash as a whole. Three alumni coming together in order to spread the altruism which they inherited from the College long after graduation puts into perspective the impact which Wabash has not just on its students, but eventually upon the environments they later find themselves living in.
"The alumni network of Wabash is incredibly strong in every sense of the word," said Dave Jackson. "This has been a labor of love. It's intimately local, and where better to show that we care than in our own hometown? This has been well worth the time we've invested into it, and I only hope that we are able to stir up more interest."
The B&O trail is in only its first stages of development, but thanks to these dedicated alums, the project is getting off the ground quite nicely. "It's been a big first step," said Jackson. "In the following years we'll be able to expand on the project with even more volunteers."

Report from Jim Kerr:
About a dozen Wabash alumni, family and board members of the B&O Trail Association gathered at the future site of a fitness trail that will someday run from Hendricks County to downtown Indianapolis.
This group of volunteers was responsible for clearing an area just off of State Road 267, landscaping and putting up a sign that will draw attention to the future trail. Much help was needed to make this project a success.
Jim Engledow,'78, donated the labor, time and expertise to help prepare the site to be worked. Two of Engledow Landscaping's finest used a high-powered bush hog and weed wacker to mow down knee high grass and weeds on Friday afternoon while proudly wearing their Wabash Day hats.
Jim's generosity enabled Saturday's group of volunteers to begin working immediately upon arrival on a gorgeous Saturday morning. Trash collection was lead by Collette and Caroline Jackson and Courtney and Kaylee Kerr. The four girls ranging in age from 5-12 filled a large trash bag of garbage that once littered the site! Bill Harrington '85 and his gas powered post hole digger enabled the placement of a sign at the future entrance of the trail. By hand, digging the holes for the sign would have probably taken several hours; however Bill and a small group of helpers had holes dug, sign mounted and erected in less than an hour! The kind people at Frazee Gardens, a local nursery and landscaping company located across the street from the trail, donated all of the topsoil, mulch, greenery and flowers needed to beautify the area around the B&O Trail sign.
Wabash spouses were instrumental in picking out and planting the plants, flowers and mulch and also keep the group hydrated and fed.
This was an important project for the people of Hendricks County as we hope it will one day improve fitness, encourage community and provide enjoyment for many people. We were especially proud that this project brought together many people and organizations - Wabash alumni, spouses,
children, a community association and a local business. Each contributed to the success of the project.