NPR's Reporter Ari Shapiro to Give Talk
by Karen Handley • October 8, 2008

Share: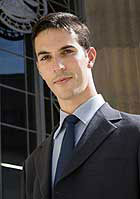 Wabash College will host National Public Radio (NPR) correspondent, Ari Shapiro. He will give a talk on "Presidential Power and the War on Terror." at 8 p.m., Monday, October 13, in Salter Hall in the Fine Arts Center.
Shapiro reports on the Department of Justice and national legal affairs for all of NPR's newsmagazines, including Morning Edition and All Things Considered. His recent reporting has focused on legal controversies over national security issues, including domestic surveillance, interrogation policies, and access to federal courts by enemy combatants. Shapiro has also covered court challenges to the Bush Administration's counter-terrorism policies. Based in Washington, D.C., Shapiro travels extensively to investigate and report on legal issues across the country, ranging from jury service and attorney-client privilege to indigent defense and mental health courts. The first NPR reporter to be made a correspondent before age 30, Shapiro has received the American Bar Association's Silver Gavel Award for his coverage of New Orleans' disordered legal system following Hurricane Katrina and the Daniel Schorr Journalism Prize for his investigation of methamphetamine use and HIV transmission. Before he began covering the Department of Justice in 2005, Shapiro investigated abuses of Iraqi detainees at Abu Ghraib prison and covered the legal proceedings against American soldiers accused of the abuses. As a regional reporter for NPR in Miami, he covered the 2004 Atlantic hurricanes and subsequent allegations of wasteful spending by the Federal Emergency Management Agency (FEMA).
Shapiro began his journalism career in 2001 in the office of legal affairs correspondent Nina Totenberg. He was subsequently awarded NPR's reporter training fellowship and reported locally for member station WBUR in Boston.
Shapiro graduated in 2000 magna cum laude from Yale University with a B.A. degree in English. While at Yale, Shapiro spent time abroad researching cultural obstacles to HIV education for Ethiopian immigrants. He was also a member of Mixed Company of Yale, one of Yale University's coed a cappella groups. Shapiro was born in Fargo, North Dakota, and grew up in Portland, Oregon, where he graduated from Beaverton High School.
His talk is free and open to the public.