Wabash Defense Dominates Gheny
by Howard W. Hewitt • October 4, 2008

Share:
Wabash's Little Giants rolled up 239 yards rushing Saturday to improve to 4-0 with a win over NCAC foe Allegheny, 48-7. The defense shut down the Meadville, Pa., visitors limiting them to 36 yards rushing.
The Homecoming win positions Wabash well for the next two weeks when they must travel to Washington University and then the annual showdown with Wittenberg in Springfield, Ohio. See Homecoming photo albums here, here, here, here, and here.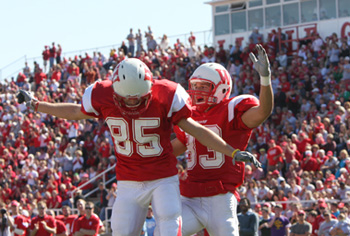 The defense showed Saturday that it was more than ready for any challenge. The Gators had only two first-half first downs and 11 for the game to Wabash's 23. Wabash piled up 460 yards on offense to Gheny's 190.
"I thought if you put the films on from the first week, to last week and now to this week it looked like a different (defensive) team out there," Coach Erik Raeburn said. "They looked great again today. We didn't get off to a great start on offense but played so good on defense and had a couple good special team plays and put us in great field position until we could get going on offense."
Dan Ryan Wood and David Mann led the defense with 7 tackles apiece. Wood had a team-high five solo tackles. Josh Gangloff, Darryl Kennon and James Pannell each had five stops. Kennon scored 1.5 sacks and 2.5 tackles for a loss.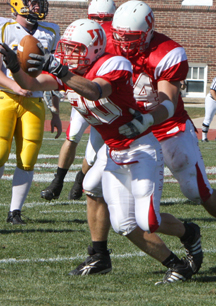 "We have a motto, play hard, play fast, and play smart and we did all that today," Woods said. "We really hit these guys and shut them up."
That slow start didn't last long as the defense dominated the line of scrimmage. Wabash's offense had short fields but came away only with a Drew Oehler 29-yard field goal and another from Spencer Whitehead from 25 yards.
But the dam burst in the second quarter. Bobby Kimp, who finished with 86 yards on 19 carries, scored on a six-yard pass play to the corner of the endzone. Then freshman wide receiver Brady Young, subbing for an injured Brock Graham, caught a scoring pass of five yards. Derrick Yoder ran the score to 27-0 at half with a 12-yard run.
"I had to go in under unfortunate circumstances," said Young, who led Indiana in receiving yardage his senior year at Delta. "You never want to see anyone go down. But the coaches had faith in me and I had to go out and run the plays as I know them, and make plays."
Young said the atmosphere was electric, with more than 5,000 fans in the stands for Homecoming. "It's a lot different being out there from high school. From Friday night lights to Saturday afternoons, especially here at Wabash is totally different."
Young finished with three catches for 45 yards and the score. Sophomore Kody LeMond had starred in the first three games of the year and was held quiet in the first half, but not in the third quarter. He ran a stop-and-go route that left his defender grasping and hauled in a 41-yard strike from Matt Hudson. Then midway through the period he made a spectacular leaping catch in the end zone and snatched the ball from the grasp of two defenders, 41-0.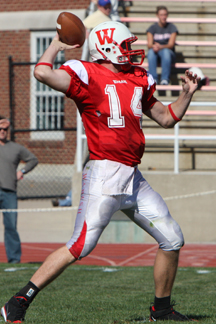 Hudson didn't have the gaudy numbers of previous weeks but a very efficient day nonetheless. He hit on 13 of 21 passes for 221 yards and four scores. His receivers averaged more than 17 yards a catch.

Allegheny (2-2) got on the board late in the game when David Strawser threw 11 yards to Matt Griffith against Wabash's second-team defense.

Usually highlights don't come late in the game but there was another big moment for Wabash.

With five minutes to play, the second team offense was on the field and was joined by last year's leading rusher Evan Sobecki. The tailback had not seen action yet this season due to injury. After a 10-yard run by sophomore Tommy Mambourg, Sobecki ran the ball eight consecutive plays. His final run was a 1-yard score, 48-7. He finished with 50 yards on that one drive.

"He hasn't been able to get out there," Raeburn said. "He's been injured so we thought we'd get him out there for some touches and get him some action since it's been so long. He looked good, really good."

The Little Giants 239 rushing yards paired with last week's 217 at Kenyon marked the first time since 2003 that Wabash rushed for 200 or more yards in consecutive games.

Senior Tony Neymeiyer was beaming after the game thinking about his teammates effort on the line.

"We were really dissatisfied the first game but it's always our goal to come out and control the ball and just stuff it down someone's throat," the center said. "When that didn't happen the first game and we went to the pass too much we kind of took that on ourselves. We realized we weren't holding our blocks and getting down field and hitting people the way we should so we just turned up the heat a little bit these last two weeks."

In photos: Upper right, LeMond helps celebrate Young's first collegiate score. Center left, Mann celebrates his interception. Bottom right, Hudson looks downfield.




Results: Wabash 48, Allegheny 7 Game Stats