LeMond Named to D3football.com Team of the Week
by Brent Harris • October 1, 2008

Share: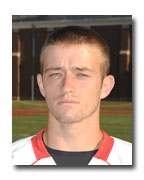 Sophomore wide receiver Kody LeMond has earned a spot on the D3football.com Team of the Week for his efforts in Wabash's 55-13 win at Kenyon.
LeMond received the honor after posting his third consecutive 100-yard receiving game Saturday. He caught 12 passes for 228 yards and four touchdowns. His four scoring receptions tied the Wabash and NCAC single-game marks, while his 228 yards were the second-best single game performance by a Wabash receiver in school history and the fourth-best effort by a Division III receiver this year.
LeMond is averaging 171 receiving yards per game to lead the nation. He is tied for fifth in receptions per game at nine and is tied for sixth in scoring with an average of 14 points per game.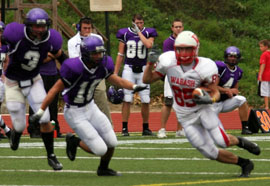 The Pendleton Heights High School product caught a 10-yard TD passes midway through the first quarter and again at the start of the second period. LeMond got behind the Kenyon defense for his third score of the game on a 70-yard completion from quarterback Matt Hudson. Lemond's final touchdown catch came on an eight-yard pass from Hudson at the end of the third quarter.

Wabash, ranked seventh in the latest D3football.com poll and sixth by the American Football Coaches Association, plays at home Saturday against Allegheny as part of the College's Homecoming activities. Kickoff at Hollett Little Giant Stadium is set for 2 p.m.




For more information see: