Indiana Writer Martone Reads Tonight
by Karen Handley • September 24, 2008

Share: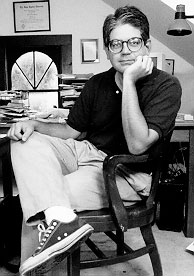 As a part of the Wabash College Experience Indiana Speakers and Artists Series, Michael Martone, will give a talk at 8 p.m. Thursday, October 2. His talk will take place in Room 101 (Lovell Lecture Room) in Baxter Hall and is free and open to the public.
Martone, whose trademark is the blurring of the lines between fact and fiction will read from his essay, Postcards from Terra Incognita, which is a collage of thoughts on Indiana and "Place" as a subject from his book, Racing in Place: Collages, Fragments, Postcards, Ruins. Other readings will include selections from his books, The Blue Guide to Indiana and Double Wide: Collected Fiction of Michael Martone.
Martone is a professor of English and director of the Creative Writing Program at the University of Alabama where he has been teaching since 1996. Before that, he taught at Syracuse University, Iowa State University, and Harvard University.
Martone was born and grew up in Fort Wayne, Indiana. He studied at Butler University and graduated from Indiana University with a degree in English. He is also a graduate of The Writing Seminars of The Johns Hopkins University.
Martone is the author of several books including, Seeing Eye, Pensees: The Thoughts of Dan Quayle, Fort Wayne Is Seventh on Hitler's List, Safety Patrol, Alive and Dead in Indiana, The Flatness and Other Landscapes, and his autobiography, Michael Martone.
The next Experience Indiana Speakers Series will take place on October 9 with Susan Neville giving a talk on her 2008 Best Nonfiction Book of Indiana, "Sailing the Inland Sea" and then on October 13 with Norbert Krapf speaking on "Indiana Origins, A Memoir and Poetry Reading." Both talks will take place at 4:15 p.m. in Center Hall, room 216.