Warner Wraps Up Chapel Talks on Gentleman's Rule
by Howard Hewitt • September 18, 2008

Share:
Associate Dean of Students Rick Warner implored Wabash students to defend the Gentleman's Rule and make it stronger. Warner's Thursday Chapel Talk was the third and final in a series designed to get students thinking about the College's only governing rule.
Warner, who gave up his sabbatical year as a History Professor to fill the associate dean's job for a year, followed President Patrick White and Dean of Students Mike Raters to the Chapel lectern.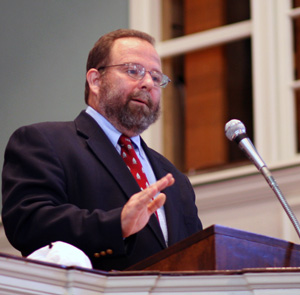 "I say the rule is a verb," Warner suggested, "because it demands we always think about what's right. The Gentleman's Rule challenges us to think critically. How can I be a gentleman? How can I be a responsible citizen?"
Warner told students, faculty and staff his approach might be more academic than the previous two talks. He mixed history and philosophy and used examples from both to equate the Gentleman's Rule to centuries of thought about justice, rules, what's right and wrong.
"The freedom you have as Wabash men, a freedom other college students do not have, comes with a continuing sense of responsibility," he said. "I implore you to defend the rule."
He laid out a few specifics for the young men that clearly will earn them a trip to the Dean's office. Those included plagiarism, fist fighting, and failing to follow cease and desist orders. Those orders result from illegal downloads of music.
"I've learned in a short period of time that if an issue needs to come to the Dean's Office, either its egregious or the Rule has failed us," he said. And he made it clear the rule works best when enforced by students.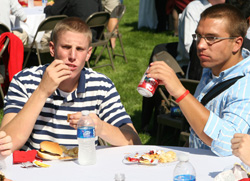 Warner also took the time to thank the Wabash community for the support they've offered while he takes on the new challenge. He encouraged the young men, faculty and staff to participate in the fundraiser for Bon Appetit's Bill Melvin, which followed the Chapel.
Warner's entire Chapel Talk can be heard on iTunesU by clicking here.
The Melvin fundraiser was to help support him while battling esophageal cancer. Bon Appetit provided hamburgers, hot dogs, and sides for the cookout on the mall. Melvin has worked at the College for more than 30 years. See a photo album from the cookout here.
Bon Appetit General Manager said she had a preliminary total of $1,700 in donations. She thanked the entire Wabash Community for supporting the Melvin family.