Horton Awarded Daniel F. Evans Professorship
by Jim Amidon • September 17, 2008

Share:
Wabash President Patrick White and Dean of the College Gary Phillips have announced that Robert S. "Bobby" Horton has been awarded the Daniel F. Evans Associate Professorship in the Social Sciences.
The faculty chair was established by Trustees of the College in honor of their friend and colleague, Daniel F. Evans '43, who was a longtime Trustee and Treasurer, and served as interim CEO of the College in 1992-93.
The Evans Chair, which is presented every three years, "recognizes an individual whose teaching and scholarship are admirable and effective, and whose intellectual leadership promises to affect the quality of instruction in his or her discipline and across the College." The Chair honors Evans' lifetime devotion to Wabash and his commitment to excellence in teaching and learning.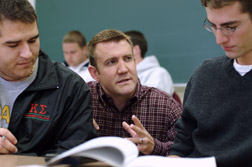 "Psychology Professor Bobby Horton is such a distinguished person," said Dean Phillips. "Acclaimed teacher, respected scholar, and energetic campus leader, Bobby exemplifies the values the Evans chair seeks to honor and make public."
Horton earned his bachelor's degree from the University of Richmond, where he was a varsity soccer player. He earned his master's degree and Ph.D. from the University of North Carolina-Chapel Hill. He joined the College in 2001 and was granted tenure in 2006.
Horton teaches all levels of social psychology, as well as research methods and statistics. His research interests include parenting and child narcissism, similarity and attraction, and the academic performance of student-athletes. He has also been involved in an extensive study of the first-year experience at Wabash.
"Bobby's work as Freshman Tutorial co-chair, his leadership in investigating and strengthening the student first-year experience, and his on-going engagement with students in the classroom, the laboratory, and at professional conferences singles him out," added Dean Phillips. "Wabash is fortunate to have faculty of Bobby Horton's caliber and to acknowledge him in this special way."
Prior recipients of the Daniel F. Evans Associate Professorship in the Social Sciences include: Economics Professor Humberto Barreto (1994-97), History Professor Stephen Morillo (1997-99), Psychology Professor Charles Blaich (1999-2002), Economics Professor Kealoha Widdows (2002-2004), and Economics Professor Joyce Burnette (2004-2006).
Daniel F. Evans served as an active member of the Wabash College Board of Trustees from 1964 to 1993, was Vice President of the Board from 1984 through 1993, and was Treasurer of the College from 1975 through 1988. He was given an Honorary Degree from Wabash in 1976.