Wabash Soccer: An International Affair
by Chuck Summer '10
The Bachelor • September 12, 2008

Share:
Around this time of year, many Americans are overwhelmed with sports. On Saturdays, it's college football. Sundays, Mondays, and even Thursdays are devoted to the National Football League. Not to mention the climax of the Major League Baseball regular season, where each day and each game could bring your team closer or further from an elusive playoff berth. A dedicated fan can have difficulty figuring out when to dedicate time to one sport or another. Leave the country, though, and it's a much different story.
Soccer is the world's game. Every four years, the World Cup attracts a mass of athletes and fans from around the globe in a spectacle rivaled only by the Olympics. In places like South America and Europe, soccer isn't just a sport, it's a passion- a way of life. To the Little Giant soccer team, this is no secret.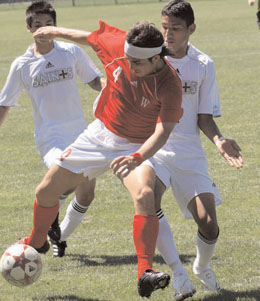 Over the past three years, the Wabash soccer program has recruited more and more talent from outside the United States. Currently, there are five Little Giant soccer players who hail from foreign countries.
Head Soccer Coach Roberto Giannini, who is from Italy himself, said the increase in foreign talent is more about looking all over for talent than anything else.
"The number one reason [for recruiting international players] is looking everywhere I can for talent, and why not?" Giannini said.
However, he did say the focus for soccer in other countries tends to produce passionate players.
"Culturally, all over the world, soccer is the number one sport," Giannini said. "There's exposure to soccer starting at an early age. If they play the game, they will be passionate about it. It doesn't necessarily mean that if you're born in another country then they will just be good at soccer."
One of these international recruits is freshman midfielder Allan Swan, who was born and raised in Scotland. At age fourteen, he moved to England for four years before moving to Carmel, Indiana his senior year in high school. His experience growing up has helped him recognize the difference between soccer in America and soccer in Europe.
"It's played more [in Europe]," said Swan, one of 15 freshmen on the Wabash roster this year. "People over there want to play all the time. I knew guys who were in their forties and fifties and still played."
Swan believes his experience in Europe helped his development as a soccer player.
"The game over there is technically better," Swan said. "The players are not as athletic, but they're mostly focused on soccer. Here, guys grow up playing four or five different sports. Over there, everyone wants to be a professional soccer player, so I wasn't pulled in different directions to play other sports. I was focused."
Joining Swan are four other players from different countries. Bolivian-born juniors Diego Aliaga (above right) and Fabrizio Monroy, Mexican-born sophomore Josue Gutierrez, and Canadian-born freshman Tommy Pecar bring, as Giannini put it, "an international flavor" to the team. Swan believes the broad cultural background of the team will help with its success.
"I think it will help the team because it will bring different viewpoints," Swan said. "The different experiences broaden the team's perspective on the game."
Even Giannini's coaching style is influenced by his Italian experience.
"The soccer culture in Italy is especially passionate," Giannini said. "I might come off as too passionate, but that's the way we coach in Italy. I'm proud of it."

Another important aspect to Giannini is the fact that soccer can help the international players adjust to a new culture.
"One thing that might help out is finding soccer as a common thread," said Giannini. "They'll be able to adjust better if they are in a familiar venue."
And if the start of the season is any indicator, the North Coast Athletic
Conference will have to adjust to having another strong competitor. Led by the team's young talent, the team has looked strong early, starting off 2-2-1.
Summers is the sports editor for The Bachelor.
Photo by Elijah Sanders '10.