Men's Studies Scholar Helps Define 'Yes'
• September 4, 2008

Share:
Professor of Philosophy and Men's Studies Scholar Harry Brod did not mince words in Korb Classroom Wednesday night when he told dozens of young men that "only yes means yes."
In a discussion that more resembled a class setting more than a traditional lecture, Brod led a workshop on sexual consent. He began by asking the audience "when might yes not mean yes," "when might no not mean no," and what's the default position when no question or answer is on the table.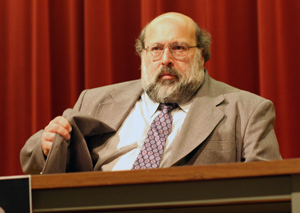 The audience responded with concerns about incapacitation, peer pressure, body language, fear, age, and coercion. After discussing the different ways of analyzing what constitutes consent, Brod expressed his conclusion.
"The absence of 'no' doesn't make it 'yes,' " Brod explained intently. "Only 'yes' makes it 'yes.' So if there is no 'yes,' what's in operation is 'no.' The only thing that's 'yes' is 'yes.' That is referred to as the affirmative consent standard. In order to have consent there needs to be some affirmation. There needs to be something said. Consent is something someone gives. Not something that the other person automatically has.
Dr. Brod is a Professor of Philosophy and Humanities at the University of Northern Iowa in Cedar Rapids. He received his master's and doctorate degrees in philosophy from the University of California at San Diego. His written or edited works include The Legacy of the Holocaust (Jagiellonian University Press, 2002), Hegel's Philosophy of Politics (Westview, 1992), and other works related to men's studies. Before teaching at University of Northern Iowa, he was an instructor at Temple University and the University of Delaware. The workshop was organized by the Gender Issues Committee with the support of the Dean of Students Office. Professor of English Warren Rosenberg introduced Brod. Acting Associate Dean Warner was in attendance.
Brod used several analogies to reinforce his support for the affirmative consent standard. Two of his examples included breaking speeding laws and consenting to assist airplane passengers if seated next to an exit. Brod compared sexual consent to not knowing the speed limit. He said not knowing that advances are unwanted is not a justification, just as not knowing the speed limit is not a justification for speeding.
He also reminded the audience flight attendants require verbal consent when they ask exit row passengers to assist in case of emergencies. If the attendants do not receive a verbal affirmation, they will relocate passengers to other places in the plan.
According to Brod, both cases illustrate important lessons about sexual consent. First, the default position is always 'no.' Not knowing is not an excuse. Second, assumptions are not valid when dealing with weighty matters like sexual consent.
"If we take the other path, if we say 'you don't need explicit consent,' what you are saying is that you are endorsing a situation where other people have a right of access to your body without you having given them that right," Brod said. "That's what you are saying if you don't affirm the affirmative consent standard. You are saying that other people have a right to move in on you when you haven't expressly given them permission. I don't know anybody who is actually willing to live in a world like that."
Brod said his observations of how people sometime interact and rationalize their actions led him to lead sexual consent workshops.
"We live in a world where we need to be accountable to each other. My consideration of what was out there led me to think that people had not sufficiently, from the ground up, thought through what is really ethically required of us in terms of interacting with each other. We don't leave our ethical selves at the door when we enter the bedroom, the boardroom, or the battlefield. We need to keep our morals intact no matter where we are. That's what integrity means."
Senior Brandon Christy, Wolcott Hall, thinks Brod's message is an important and appropriate one for an all-male college and for young men in general.
"I think a talk like this is very useful for people at Wabash and our age group," Christy said. "There's a lot of gray areas to sexual consent. And to have an open conversation about it helps clear up those grey areas and gives you a little more ethical guidance."