Alumni Welcome Sophomores Back to Campus
by Howard W. Hewitt • August 31, 2008

Share: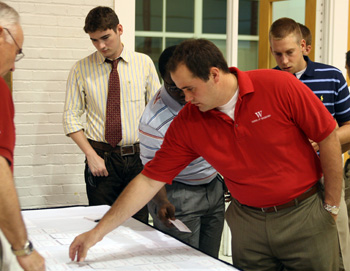 Each fall there is a great deal of focus on Wabash College's in-coming class. The L.E.A.D. program hosted a welcome back dinner for sophomores Sunday night. One of the purposes of the program was to introduce the ideas important to becoming engaged alumni.
Linking Education and Alumni Development  (L.E.A.D.) is a program designed to bring alums together with current students in a number of different ways to strengthen the bond that has long been critical to the College's success.
"The key here is that when their class graduates they are officially alumni of the College," Director of Alumni and Parent Relations Tom Runge said. "So we decided what we need to do is welcome them back and try to make them feel special. Right away we want to get them started thinking about the responsibilities and privileges of being an alumnus without going overboard. This is a chance for our alums to talk little bit about Wabash College and the leadership role these future Wabash graduates will need to fulfill."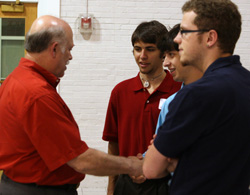 The National Association of Wabash Men help sponsor the sophomore dinner and a number of its members were on hand to join the students.
President Patrick White welcomed the Class of 2011 members back before turning the podium over to Josh Owens '07.
Runge noted the strength of the L.E.A.D. program is bringing leadership skills to current students from the alumni base. Owens graduated with a degree in economics and was a campus leader in several organizations. He is now employed by Angie's List in Indianapolis.
He believes increasing the students' understanding of becoming an alum is important enough to drive up from Indianapolis and share his evening.
"I think its realizing there is a body of alumni that stand beside them, and help them and give them the resources to really enjoy their Wabash College experience," Owens said. "It's something they should really enjoy and take full advantage of."
That giving back includes volunteering, mentoring, and supporting the College's Annual Fund.
"I give, not out of wanting to get something back for me, but so that they have an experience  that is not even the same as the experience that I had but enhanced with more opportunity to travel, more opportunity to study with some of the top professors here. I might not even recognize the experience that they have but that it would be that good and that enhanced and that different from mine because of my support."
In Photos: Top right, Steve Stambaugh checks in at registration table. Center left, Brad Johnson '71, Indianapolis, meets members of the sophomore class. Below, Sophomores arrive for the evening program.
For more photos, click here.