Wabash Freshmen Provide Big Help
by Howard W. Hewitt • August 25, 2008

Share:
Wabash's Class of 2012 got an early introduction to "living humanely" Monday afternoon performing community service projects across the county.
See photo albums from several of the projects here, here, here, here, and here.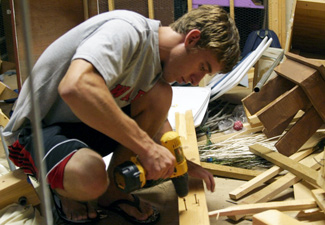 The community service tradition gives the new Wabash men a chance to get to know each other working side by and side and the opportunity to see and learn more about the Crawfordsville community.
And for many of the groups they help out it's a chance to knock out a project that might take their own volunteers days or weeks.
The students are divided into groups and sent out on 18 different projects. Students at Red Ball moving on the city's east side were working on donated fire trucks and equipment that will end up in small Mexican towns. Claude Johnson has spearheaded the effort for the Rotary Club and has been honored for that work at the local, state and national level.
"It's just amazing to think about how many people we're helping – people we'll never know," Johnson said. "But this project really does save lives. I recently talked with someone in Actopan, Mexico, where we had donated a fired truck. They made 945 runs last year alone. That same truck had made 11 runs the previous year when it sat in Perrysville."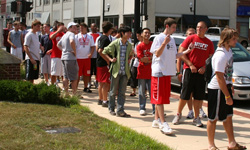 The students sorted donated fire equipment and helped load it onto the trucks.
Some of the Monday jobs required simple muscle power. Wabash freshmen helped the First Baptist church remove old, unwanted playground equipment.
"This is absolutely great and these guys are helping us immensely," church member Ralph Anderson said. "We've wanted to do this for a year and a half, and with this much manpower, we can get it done today. We're happy to have the Wabash guys come out to lend us a hand."
As a matter of fact, when an electric saw failed the students used a little brain power and muscle - more than six guys grabbed a slide and twisted if off for removal.
Students all over town were having fun completing their projects, but perhaps none had a better time than the group walking dogs at the Animal Welfare League.
"We love having the student out here," said AWL Office Manager Sharon Maxwell. "It helps the dogs become socialized, and helps us see the behaviors that lead to a better match between dogs and adopters."
Most wouldn't think walking a dog would be anything new for our students, but one Wabash man chalked it up as a first-time experience.
"It is not typical to walk dogs in Bangladesh," said Galib Shishir from Bangladesh. "These are my first experiences with this sort of contact with mammals. It feels good to share the bond between man and animal."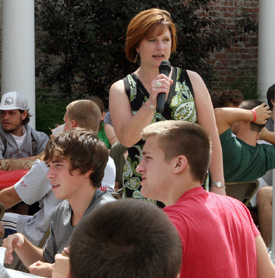 For the first time a big group of students went to Waveland to help town leaders with a variety of projects. Guys scrubbed rust from pipes at the town water works, washed fire trucks for the volunteer fire department, planted flowers on the main street, and did painting and other work at the town park.
The day started off with something new for 2008. The men all walked downtown for lunch on Crawfordsville Main Street. Rosanne Junkins, Main Street Director, said the idea was to introduce the new students to the business community.
"We need to see some W's downtown and we want the Wabash guys to know that we're here and we have restaurants, places to buy things for moms, gift shops, banks to bank at, places to get your hair cut," she said. "So we want them to not only be a part of the Wabash community but be a part of our community and be a part of downtown."
Joey's restaurant provided sack lunches for the students before they went out on their service projects.
In photos: Top left, Chris Kermin takes apart props from the most recent Vanity Theatre performance. Center right, there was a long line for lunch downtown. Bottom left, Junkins told the freshmen there were lots of businesses to explore in downtown Crawfordsville.