Football Team Begins Practices
by Matt Wilson
The Journal Review • August 20, 2008

Share:
Matt Hudson still has a sour taste in his mouth.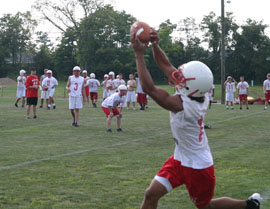 Hudson quarterbacked 13 games last season, helping Wabash's football team to an 11-2 record and berth in the final eight of the Division III Playoffs where the Little Giants lost to eventual-national champion Wisconsin Whitewater. But Hudson still doesn't like the fact Wabash lost two of its final four games last season.
He said this year's Little Giants aren't going to be complacent with finishing in the top eight in the country. He said this year's team is committed to having another successful season, and that journey started Tuesday when the Little Giants had their first fall practice under first-year coach Erik Raeburn.
"The summer was long enough," said Hudson, who spent his summer living with his grandparents in Crawfordsville while working promotions for ESPN Radio in Indianapolis.
"I'm not going to use the cliche that I was ready to come out and hit somebody, because that's not what I do. But I did really miss these guys and I missed the competition."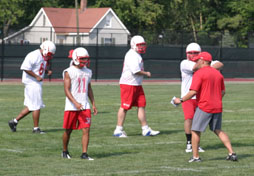 Senior defensive lineman Jared Lange, who missed the spring practices with the team, also was excited for Tuesday's first practice. The Little Giants ended their season Dec. 1 with a 47-7 loss to Wisconsin-Whitewater.
"I always look forward to getting back here with my football family," said Lange, who spent his summer working in Denver for a Wabash alumnus who is a truck broker.
"I have been looking forward to this day since Dec. 1."
But Tuesday's first practice was more than just conditioning and continuing to learn the new offense Raeburn has brought in. It was more about helping between 50 and 60 freshmen get accustomed to college life and make them part of the Little Giant family.
Hudson can remember his first day of practice as a freshman and how the upperclassmen helped him feel part of the team. Now as an upperclassman, he and the remainder of the juniors and seniors are trying to do the same for this year's first-year players.
The Little Giants would split up into different teams during practice, and each of the upperclassmen group were paired up with at least a couple of freshmen. They went through a team building exercise where each of the freshmen would introduce themselves.
"The main thing we wanted to do today was to get to know the 50 or 60 freshmen that are out there for the first time," Lange said. "We just try to get to know each of them and really emphasize family."
Raeburn liked the way the upperclassmen welcomed in the freshman.
"The older kids remember going through their first day of practice as freshmen and they did a good job of taking the younger players under their wings," Raeburn said.
The seniors already went through their bonding experience. A couple of weeks before camp started, they went whitewater rafting in Jackson Hole, Wyo., then climbed Kings Peak, which is the highest mountain in Utah.
Hudson said there was a little difference between the first practice with Raeburn and the first practice with Chris Creighton in previous years.
"They were similar in that we had the maxing out sessions and we had team meetings," Hudson said. "But if there was a difference, this practice might have been a little less grueling and we worked more on the mental side of the game. That is a good thing because when you are trying to get 130 players, 50 of those you have never seen before, on the same page, you have to retain a lot of information. So it went well."
Raeburn said Tuesday's first practice was more difficult than others because he brought in a new offense, defensive and special team's system. He said the players did a good job of retaining the information they learned during spring practice.
"The energy and effort were there," Raeburn said. "We had some mental errors, but when you are running a new system things are not going to be as perfect as you would like them to be for the first game. But I was super happy with the energy and effort."
Keeping a tradition going, the Little Giants won't be on campus for the remainder of this week's practices.
The players and coaching staff left Tuesday night for Twin Lakes Camp in Hillsboro and won't return until Friday night.
Matt Wilson is the sports editor of the Journal Review.
Photos - (top right) Sophomore Wes Chamblee catches a pass near the sidelines during Tuesday's first football practice.
(Bottom left) Head Coach Erik Raeburn discusses a drill with members of the offensive line.